Business
Kogod Tops BusinessWeek Sustainability Ranking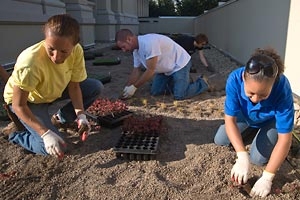 The Kogod School of Business has moved up to No. 1 on the annual Bloomberg BusinessWeek "Best Undergraduate B-Schools" list in the "Best in Sustainability" category.
Kogod moved to first after placing No. 5 in 2012, becoming the only school in the D.C. area to be in the top ten for sustainability.
"Kogod is committed to showing our students they can have a lasting impact on the world at large through their actions and that begins in our own classrooms and on our campus," said Dean Michael Ginzberg.
How It Works
Like the overall school ranking, specialty rankings are based on surveys completed by graduating seniors. Students were asked to assign a letter grade to their school's performance in specialty areas—an "A" received on point, an "F" received five points—the points were then averaged for the school. The lower the score, the higher a school ranked.
Kogod received a score of 1.16 for sustainability. The average score for the 124 schools in the ranking was 1.66.
For Anjelica Magee, BSBA '13, her green classes have been a way to prepare for a career more focused on technology.
"Not only is it better for the environment [not to use paper in class], but I think this is how I'll be doing work in the real world. More and more information is stored online, we look at screens more than paper."
MORE: AU Moves Closer to Carbon Neutral by 2020
Sustainability Initiatives
In addition to Kogod's green roof, many of the faculty are certified "Green Teachers," meaning they are committed to environmentally friendly practices in the classroom. These teachers assign e-books instead of traditional textbooks and utilize Blackboard for online tests and quizzes instead of using paper.
"Our Kogod faculty has…intentionally integrated contemporary management issues like sustainability into the curriculum and classroom discussions," said Lawrence Ward, associate dean for academic affairs.
"As a business school [we] care deeply about sustainability management, corporate social responsibility, and the emerging synergies being created at the intersection of private industry and the public sector."
Student-oriented programming is another way the school weaves the sustainability thread through the student experience.
Kogod hosted the "Future in Sustainability Real Estate" panel last fall, and the 2012 Kogod Case Competition featured a case about OPOWER, an energy-efficiency and Smart Grid software company.
The school's commitment to sustainability is also reflected in the new MS in Sustainability Management degree offered at the graduate level.
American University's prioritization on sustainability is another factor. AU is committed to being carbon-neutral by 2020 and encourages students, staff, and faculty to participate in the "Bike to Work" initiative. The school even removed trays from campus dining facilities, which resulted in a reduction in the overall amount of food waste and dishes used per person.