Business
First Female BSF Graduate Hails from Family of Financiers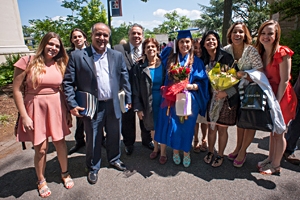 When Mercedes Beras-Goico became the first woman to graduate with a BS in Finance from Kogod in May, she was following the footsteps of her grandmother and mother before her, who founded a microfinance institute in their native Dominican Republic. Now, as a new Analyst in Securities and Funds Services at Citibank, she's continuing that legacy as the first member of her family to come to the United States.
"I was exposed to numbers and finance as a small child," Beras-Goico said. "I remember always being interested and fascinated by numbers and how they worked."
Driven
Beras-Goico attended AU on a Presidential Scholarship, an opportunity that made coming to the U.S. from the Dominican Republic possible. Despite her mother's encouragement to study economics, Beras-Goico focused on finance as a BSBA student and transferred to the BSF when it was introduced in 2012.
"Economics was too theoretical for me. I love the practicality of finance and the range of achievements possible through financial analysis."
Just 17 when she arrived in D.C., Beras-Goico, like most, found her freshman year a challenging one but pushed herself to adapt to the new culture.
"I realized early that it was much easier to get noticed [in the Dominican Republic] than in the U.S. I was going to really have to work hard to develop my passions and stand out," she said.
After her freshman year, Beras-Goico set a personal goal of having a job or internship every semester. She got a social security number and began building a good credit history. In addition to being a member of The 1955 Club, a business leadership organization, and the American University Diplomats, she founded the Kogod Hispanic Business Association.
"It was important to me to be involved [at Kogod] and to help other students, especially international students, adapt to AU," she said. "I had a hard time adapting so I wanted to make sure others felt as welcome as I did."
Driving Forward
Beras-Goico is three weeks into her new job at Citibank headquarters in New York City. She was recruited for the position during her final year at Kogod, after interning with the company the previous summer.
"It's been great to work at the headquarters [for Citibank]. It's really where everyone in the company, domestic and international, convenes," she said. "I love working surrounded by so many perspectives."
Much like moving from Santo Domingo to D.C., moving to New York City has been another lesson in adaptation for Beras-Goico, but one she's making the most of.
"Everyone and everything [in New York] moves much faster than they did even in D.C., but this is the place to be in the financial industry and I love that."
Beras-Goico also plans to return to school, possibly as early as the coming fall, to earn an MS in Business Analytics at New York University.
"Big Data is the future, it is going to be 'the thing' that everything is based on and I want to be a part of that."