Business
U.S. Army Officer Leads the Way Back to School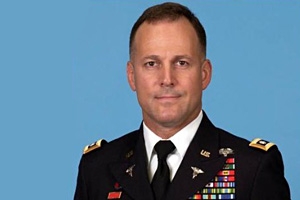 Repelling from helicopters. Handling millions of dollars of equipment. Traveling the globe. After 17 years of service in the U.S. Army, Lt. Colonel George Gilbert Jr. has faced challenges few can relate to. The Global Health Systems Analyst for the Defense Intelligence Agency has returned from the field; he's in his second year of Kogod's Professional MBA program.
Serving His Country
Gilbert commissioned in the army after earning his bachelor's in 1996. He was a lieutenant in the Medical Service Corps. Immediately, he was thrust into a leadership position that required respect, accountability, and responsibility.
"As leaders in the military, we are responsible for the health and welfare of our soldiers and their family members," he said. "This can be pretty intimidating for a 23 year-old kid right out of college."
Gilbert's early days in the army taught him that workers are not only essential to the military but also essential to the future, something he came to fully realize throughout his years of leading others.
"It's [clear] looking back, our people are our greatest resource."
An Uphill Battle
Much like the cyclical nature of the business world, Gilbert has seen many positive and negative changes in the army during his career. Following the Gulf War, he witnessed a significant downsizing, with many officers choosing to or being forced to leave the military.
"I lost several really good mentors during that time frame," he said. "[At that point] I wasn't sure if I was going to make a career out of the army."
Gilbert persevered through the challenges of poor leadership and significant upheaval, but ultimately found himself in a much-improved organization.
"I do foresee some challenges [in the future]… but nothing we can't overcome—in the military or society."
Returning to the Classroom
Gilbert has always valued higher education, something his parents did not have themselves, yet stressed to him during his childhood. He took the lesson to heart, earning masters degrees in Military Arts and Sciences from the U.S. Army Command and General Staff College, and in Science and Technology Intelligence from the National Intelligence University. Now, at Kogod, Gilbert is committed to continually improving upon himself.
"I love school, I love learning, and I especially enjoy learning through my classmates' experiences," he said.
Gilbert chose Kogod because of the school's reputation, the PMBA's fit into his work-life schedule, and the curriculum's hybrid online/face-to-face format. His decision was made.
Bringing the Army to School
Since returning to school, Gilbert has taken the opportunity to expand his existing skills and develop new ones. Much of what he learned in the military has helped him thrive in the classroom.
"The PMBA program requires a lot of self-discipline and [good] time management skills," he said. "The military enforces these skills very early in one's career."
One aspect in particular Gilbert has enjoyed in the PMBA program has been the interactions with his cohort classmates.
"[My classmates] are great team players and I learn from them everyday," he said.
The Road Ahead
Soon to have an MBA in hand, Gilbert has begun to look at career options beyond the military. He is confident that his military service and graduate education will make him appealing to potential employers.
"Employers see value in military experience, and being armed with a Kogod MBA will undoubtedly move me ahead of my peers," he said.
Whether he decides to continue his career in the military or to start anew in the private sector, Gilbert's options are seemingly unlimited.
"I have many interests and I still don't know what I want to be when I grow up."
Learn more about the Kogod PMBA at our up-coming information session.