Business
Despite Numbers Growth, Researchers Say Corporate Boards Need More Women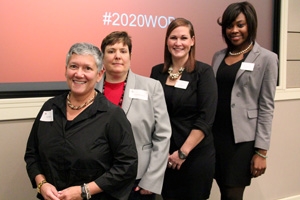 For nearly four months, MBA candidates Laura Denton and Danielle Hart gathered and analyzed data on the corporate board make-up of 208 publicly traded companies in Maryland, Virginia, and Washington D.C. Released this month, their statistical research specifically noted how many women serve—or don't serve—on each board.
Guided by a Kogod professor and the Women in Technology nonprofit, the two painted a picture of change in the region's corporate structure and highlighted the need for more.
The Magic Number?
For the past three years, the Kogod School of Business has partnered with Women in Technology (WIT), a nonprofit dedicated to advancing women's roles in technology across all industries, to study how women fit into the corporate board picture in the D.C. region.
Under the guidance of Executive-in-Residence Jill Klein, the graduate students collected and analyzed findings to get an impression of these boards in 2013.
Interpreting what the voluminous data meant was the hardest part of the study, according to Denton, MBA '14, and Hart, JD/MBA '14.
"We were literally going company by company—for 208 companies—double- and triple-checking every name and every board position," Denton said. "It was very tedious and monotonous, but we got through it and that's when the story really emerged."
And that story wasn't exactly what the researchers expected to see. While the percentage of women on corporate boards in the region is slightly increasing—10 percent in 2013 compared to 9 percent in 2012—the number of boards with more than one woman had changed very little.
"When it comes to true gender diversity and women really being able be heard and make a difference [on their board], we found the magic number to be three," said Hart. "And very few boards have that."
The reasoning: when there's only one or two women on a board, it's hard to have their voices heard; there's an element of 'tokenism.' With three, it's literally a case of strength in numbers.
The ladies called the number three the "critical mass," marking a shift in the study from just tracking numbers shifts to exploring the deeper implications of what the numbers are saying about corporate board culture.
"Laura and Danielle really moved beyond the basic count [with their study] and thought outside the box as far as impact," Klein said. "Critical mass is a very important index and one that I'm sure we'll continue to track moving forward with the study."
The Numbers
In addition to Klein, WIT member Lori DeLorenzo, an independent technology consultant, worked with Denton and Hart as project director. DeLorenzo brought years of experience in data collection to the table, a useful skill given the project's broad scope and short timeframe.
"When I first came on board and saw the project plan and timeline, I almost fell out of my seat," DeLorenzo said. "There was a huge amount of work to be done in a short amount of time but Laura and Danielle tackled it with enthusiasm."
According to DeLorenzo, the biggest hurdle the team faced was confirming the genders of board members due to gender-neutral names.
"Determining gender based on the names, which in most cases was all we had to work from, was much harder than you might expect," DeLorenzo said. "There were a lot of Ashleys and Terrys, which may seem obviously female but when you consider the average a corporate board member [is at least 60], it gets a lot more ambiguous."
Action and Advocacy
When Hart and Denton presented their findings to WIT earlier this month, they were achieving their primary goal: starting conversations about the numbers.
"The numbers show that we need to do better [putting women on boards], but they also got the conversation going," Hart said. "The study results really encourage proactive behavior and that's worth it."
It would have been easy for Denton and Hart to walk away discouraged for their own futures in corporate America, but instead they found a new sense of purpose. And that, to Klein, is why she gets her students involved in the study.
"Despite the lack of critical mass on boards, we did see an increase in women on boards and that's the positive to the study," Klein said. "My goal…is to really get them to see that more women are prepared to be on boards now than ever before."
Making sure women have the skills necessary to serve on boards led WIT to create The Leadership Foundry in 2011.
"Everything [this study does] is to promote action and advocacy," Klein said. "My goal in all of this is to have my female students say 'when I serve on a corporate board,' not 'if I ever serve on a corporate board.'"