Business
Tax Expert Jina Etienne, MST '93, Found a Calling in Serving Clients, Peers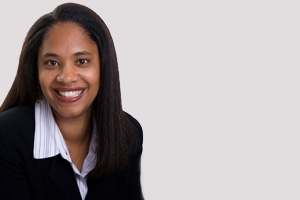 Jina Etienne was planning to become a lawyer when she came to American University. She had every intention of going for her JD after earning her BSBA—until she took an elective course in taxation her junior year and everything changed.
"Sitting in that tax class felt like coming home," she said. "It sounds cheesy, but I knew in an instant that I loved this subject area and would work in tax."
Etienne graduated with her BSBA in 1989 and returned to Kogod to earn her MS in Taxation in 1993.
Relationships
For Etienne, the draw of taxation was its relationship to accounting and the way it merged mathematical equations with planning for the best outcome
"Accounting is logical and organized and taxation is the way the facts of accounting are interpreted in daily life," she said. "In tax, you get to alter the variables and influence the outcome of the equation in the way that will be most beneficial to your client."
And benefitting clients has always been Etienne's primary goal. For 17 years she operated her own CPA firm specializing in tax services firm, Etienne and Associates, LLC, dedicated to serving her clients as more than just a CPA.
"My goal was always to offer value to my clients, to help them be successful in their financial lives," Etienne said. "I didn't just want to provide a service, I wanted to provide help."
Providing the help was the easy part, according to Etienne. The hard part of running her own business for nearly two decades was integrating her life at work with her life at home with her husband and children.
"I always tried to live my life in tandem and not separate parts into 'work' and 'home,'" she said. "I knew I served my clients best when I was just Jina and showed up as me, not just a 'work version' of me."
Next Step
That desire to do more is ultimately what led Etienne to her current position. As the Director - Taxation, Member Service & Tax Ethics, for the American Institute of CPAs (AICPA), Etienne lends her years of experience to other CPAs, helping them become premier providers of tax services.
"It was hard to leave [my firm] but I felt this was the right direction for me to go," she said. "Now I can give more back to the tax community in an even bigger way."
In addition to her work at AICPA and with her own clients, Etienne also spent years as a public speaker with Gear Up Seminars, specializing in making technical, tax guidelines more approachable.
"I'm proud to have been a role model to other tax professionals," she said.