Business
Entrepreneurship Workshop Highlights Benefits of Design Thinking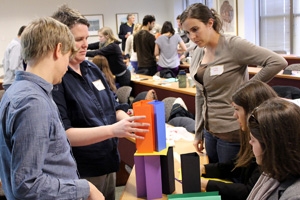 Good design is more than pleasing aesthetics. Good design takes user experience, end-result goals, production needs, and other factors into account.
At least, that's the hypothesis behind the concept of Design Thinking (DT). Design Thinking is a popular business strategy that purports that managers and entrepreneurs can better improve their own problem-solving and creative abilities by understanding how designers approach problems.
A crowd of graduate business students, entrepreneurs, and other members of the AU community came together on March 8 for a Design Thinking for Entrepreneurship workshop to explore these ideals.
The workshop, sponsored by the Full-time MBA program and the new Kogod Sustainable Entrepreneurship and Innovation Initiative (SEII), was facilitated by Peter Khanahmadi, MBA '10, an innovation consultant at Booz Allen Hamilton, and Daniel Graff, an instructor at Aalto University in Helsinki, Finland, with expertise in design thinking.
"When done properly, good DT can add value to any project," Graff said. "But if you focus too much on form and not enough on function, you're not going to serve the client at all."
The attendees did group exercises and worked in teams to produce design concepts for an Incubator, part of the new Kogod SEII, which is set to open later this spring.