Business
Alumni Startup Connects Expats Abroad and at Home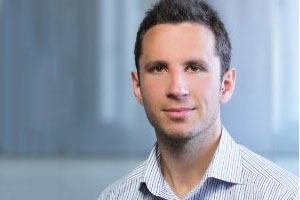 Hristo Boyadzhiev has always been drawn to faraway places and the people he can meet along the journey. Attending American University satisfied both desires for the Bulgarian native.
When Boyadzhiev, BSBA '08, started his freshman year at Kogod in 2004, a family friend who has just graduated from AU gave him a local connection in Washington, D.C. right away.
"The fact that I knew someone who was there, who lived in the city, who would sort of help me around, tipped the scale towards me going [to AU], for sure."
The help he received from that friend was the beginning of Boyadzhiev's mission to help other international travelers create similar connections.
Going Abroad, Giving Back
At Kogod, Boyadzhiev found a community as committed to doing good as he was—what he perceived as a far cry from his native home.
"[American] promoted the idea of giving back to society," he said. "[They] believe in doing business, but making sure that it [gives] results to a community, to society in general, not just yourself. Bulgaria didn't really have that."
After his graduation, Boyadzhiev and six classmates put that idea to work, creating Tuk Tam, a nonprofit that connects Bulgarians living, working, and studying abroad. To date, the company's Facebook page has more than 4,000 fans, The name comes from a traditional Bulgarian phrase meaning "here and there."
The service also extends to expatriates returning to Bulgaria, easing the often-overlooked transition back to life at home.
"We [remember] what it's like to come back, and try to give you a network to connect to—people who have done some amazing stuff," Boyadzhiev said. "You can link up and find a job, or just engage in various social activities."
For the past three years, Tuk Tam has hosted a four-day social entrepreneurship challenge, bringing together professionals of all backgrounds to develop new ways to address Bulgarian challenges.
"You have coders and designers on one end, and business people on one end, and [you're trying to] create a [company] in a weekend," he explained.
Boyadzhiev himself participated in similar events before incorporating them into Tuk Tam's offerings. In fact, one such event is how he found a job outside his startup.
After earning his MBA at the ESADE Business School in Barcelona, he returned to Bulgaria and met the founder of Despark, a web development and mobile app agency, through a weekend challenge. When his second competition startup failed to get off the ground, Boyadzhiev got back in touch. He is now the commercial director of the agency.
Since he joined Despark, the company has doubled in size, keeping Boyadzhiev busy. But even while managing Tuk Tam and bouncing between Despark's Sofia and London offices, he still finds time for what he loves.
"I'm [still] trying to do good by others and by me."