Business
Capital Connections: My Introduction to Business in the District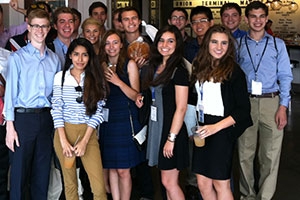 Brieanna Bookter, BSBA '18, is originally from Fredericksburg, Virginia.
Capital Connections is Kogod's annual introduction to area businesses for incoming students. Local companies open their doors for tours, presentations, and Q&A sessions about their operations.
In the weeks leading up to my move to D.C., emails came my way urging me to sign up for a Welcome Week program at American University. I took the time one day to explore my options in programs and was immediately drawn to Capital Connections. I won't lie, I felt obligated to choose the Kogod program since I would soon find the business school to be my little niche here at AU, but I am very glad I felt that obligation. Capital Connections was a truly great experience.
The two-day program opened my eyes to the world of business here in the nation's capital and got me excited for potential internship and job opportunities in the future. My peers and I were introduced to five very unique companies in the District: Honest Tea, Chef Geoff's, 1776, KPMG, and Union Market. It was wonderful to witness their office atmosphere, listen to the companies' missions and visions straight from employees, and learn firsthand what their products and services entail.
The most exciting part was seeing the opportunities that were available for freshmen like us, such as internships within these companies. I also found it reassuring to see all of the opportunities the business world of Washington D.C. has to offer us during the next four years and potentially the rest of our careers.
My network already began to expand after being in Washington for just three days because of Capital Connections. This program helped solidify my decision to attend American University and study within the Kogod School of Business.