Business
Defying Gravity: My Experience at the 2015 Kogod Leadership Retreat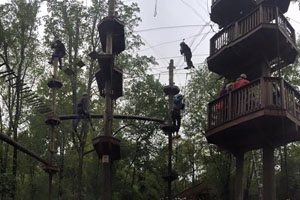 On October 3, 2015, 30 fellow Kogod students and I participated in an exhilarating leadership retreat at Terrapin Adventures, an outdoor ropes course in Jessup, Maryland that offers customers a chance to "soar through the air" and "defy gravity."
Sponsored every fall by Kogod Leadership and Applied Business (K-LAB), the leadership retreat is an opportunity for students to strengthen their teamwork and problem-solving skills outside their comfort zones. Although most Kogod students hone these vital skills in the classroom or through internships, my friends and I learned that it is possible to do so while walking on ropes at an obstacle course above the surrounding trees.
None of us knew what to expect when we arrived at Terrapin Adventures. After introducing ourselves to each other, a Terrapin worker divided us into groups. He assigned us a series of tasks for the obstacle course, but the catch was that our groups needed to develop our own collaborative solutions.
My group's first activity was a case in point. Our goal was to help each other balance on a large, wooden plate without either side of the plate touching the ground. As each of us walked onto the plate, we helped one another determine where our next step would be – and in which direction – to keep the plate in balance.
To challenge us further, Terrapin staff did not allow group members to speak with each other. As a result, our group needed to develop alternative ways of communicating with each other so that we could successfully complete the task. We decided that pointing and headshakes were the best options. Even with these limitations, we succeeded in our objective, but more importantly, my teammates and I opened up to each other and gave each other trust.
I am thankful to K-LAB for giving me the opportunity to participate in its annual leadership retreat. The experience gave me new friendships, and a greater appreciation for the unique talents of my classmates. Above all, I learned that teamwork and camaraderie are integral to the success of any organization, and that you don't need to sit in an air-conditioned classroom or office to discover your leadership potential.