Business
Business Trendsetters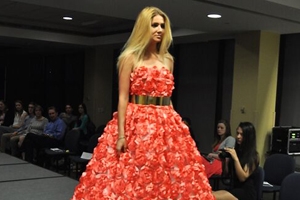 The American Fashion Society recently held their first annual "How to Succeed in Fashion" panel featuring Elaine Mensah, BA/SPA '02 and Founder & Chief Creative Strategist of SVELTE, and Betsey Garcete, founder of Zophia, at American University's Kogod School of Business.
The newly established club aims to connect aspiring fashion entrepreneurs with successful leaders in the industry. Panelists reached out to the club's president, Phil Tschepik, BLC '17, for opportunities to network with students.
"The club's purpose is to help students get a job in the fashion industry through great connections," said Tschepik
At the event, Mensah and Garcete discussed their journey through the fashion industry and how they got to where they are today. Students had the opportunity to ask questions and network with the panelists.
According to Tschepik, the Washington, D.C., fashion community is not well established. The club hopes to create a stronger bond within D.C. even though it is not the most fashion forward city.
Tschepik is working with the business school to establish a fashion program devoted to the business side of the industry.
"We are close to getting a fashion class in Kogod for next fall that is like business 1.0," said Tschepik.
With 200 members, the American Fashion Society is ready to make a statement at Kogod and in Washington, DC.