Business
Ina Bonnier's Next Big Step Undergraduate Spotlight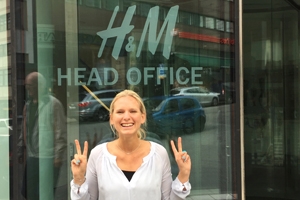 Ina Bonnier, BSF '15, from Stockholm, Sweden, is ready for the next big thing. After graduating at the end of December, Bonnier will begin working for the multi-national retail clothing company, H&M.
Bonnier describes her career path as "not one people may think that a Finance major would do, but that's what's great about it." Learning from different perspectives during her time at the Kogod Business School allowed Bonnier to choose a career that combines her studies and her passion for the fashion industry.
Kogod Experience
Bonnier met many of her friends through her time as a member of the 1955 club. She described the Kogod community as one where "students can become the biggest influencers of their peers by pepping, helping, and connecting with each other."
Surrounded by her friends, colleagues and professors, Bonnier learned from many different perspectives, which she said influenced her to apply for different jobs and internships. Recalling her experience, Bonnier believes that "there are always going to be times when you're having doubts with your career path, classes, or life in general, but it's important to like what you study, the people you study with, and your professors."
After Graduation
After interning with H&M in the Global Sales division over the summer, Bonnier received the opportunity to participate in the International Talent Training Program within Store Solutions and Sales Expansion later this year. Excited by this new career, Bonnier believes that H&M's style and business ideas are something that she can full-heartedly relate to, which is why she chose to apply.
After finishing up her studies at the Kogod School of Business, Bonnier's biggest piece of advice for current students is to take the time to focus on the practical skills, to "learn Excel, because you will never regret it," and to enjoy the remaining time that students have on campus.