Business
Kogod's 2016 Case Competition Kogod Events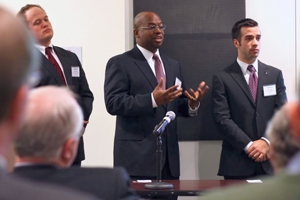 No sooner did AU's Kogod students shovel out from winter storm Jonas than they braved another arduous challenge: 2016's Case Competition. The Case Competition, an annual spring semester rite of passage at Kogod, pits student teams against one another as they compete to persuade a panel of judges that they have the sharpest business savvy in the AU community.

The Case Competition takes place this year on Saturday, February 6. Students are asked to provide a remedy to a problem faced by a real life company. They must leverage many of the hard skills they've learned at Kogod, such as international business, accounting, management, and marketing.

But the challenge doesn't end there. Even if students succeed in diagnosing the dilemma set forth in the case, they're not out of the woods. They'll have to leverage softer skills such as presenting in teams and slide design, all while crafting a compelling, seamless presentation in order to have the most impact on the judges.

Andrew Toczydlowski, Associate Director of Graduate Programming and Student Activities, agrees. "The most valuable thing for students to keep in mind is that how well they present their recommendations to judges is just as important as the content they are presenting. Judges value a team who comes prepared not just with knowledge but polish to their presentation, too."

Perhaps even more valuable than the cash prize awarded to the winners (each winning team member will receive $200) are the networking opportunities students enjoy with the judges, who are made up of alumni and local business leaders. Rubbing elbows with prominent business people can go a long way towards a foot in the door of a potential employer, Toczydlowski says.

Case Competition is as much a test of a team's mental endurance as is it a test of their business acumen. Teams have a mere three and a half days to read, assess and devise their arguments. This is then followed by hours of exhaustive rehearsals—a requisite if they want to win over the discerning judges.

Lastly, there's the teamwork aspect. Says Janu Sonthi, BSBA 2016, who competed as a freshman, "You bond and become much better friends from the entire experience." Yes, she says, it's exhausting--"you ask yourself 'Why did I do this?'

But, she says, "By the end you're so glad that you did!"

For more information on the Annual Kogod Case Competition, please visit the case competition homepage.