Business
A Home Away from Home Student Spotlight: Undergraduate Zoe Pribula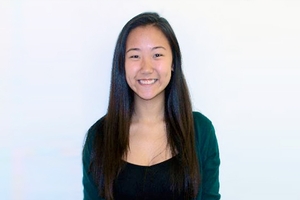 AU student Zoe Pribula was skeptical the first time she visited campus. She knew business was the right major for her, but was still deciding where to begin her studies. It didn't take long to make up her mind.
"The kind of personalized attention I received when I visited AU for the first time blew me away," Pribula says. "On our campus tour, Jesse Boeding, Assistant Dean of Undergraduate Programs at Kogod, talked to me about what I wanted to specialize in and what my aspirations were. She connected me with an advisor who made sure I knew what my four years at AU looked like before I even enrolled."
"The kind of personalized attention I received when I visited AU for the first time blew me away," Pribula says.
Pribula, an undergraduate/graduate dual degree major, believes this type of guidance has been instrumental to her success at AU. She is simultaneously pursuing a BS in Business Administration (IT specialization) and a MS in Analytics (IT Consulting and Cybersecurity specialization), an ambitious path her mentors have helped nurture and support. "My professors have been extremely supportive of my interest in this field, which helps me feel proud of myself and of my industry," Pribula says. "It doesn't matter what they have on their own plates. They always make time for you."
As she looks toward her undergraduate graduation this May, Pribula is excited to continue honing in on a career in IT and Cybersecurity during the last year of her master's. Wherever her path takes her, though, it is clear she will always feel a strong tie to the Kogod community and its supportive faculty and staff. Pribula explains it simply. "Kogod really is a home away from home."
Read more about Pribula's Kogod experience and future aspirations below.
---
Kogod School of Business: What surprised you the most about Kogod?
Zoe Pribula: Professors and advisors alike make time for you. Taking advantage of my professor's office hours is one of the most useful things I've discovered. It allows you to get to know your professor, and for them to learn about you and what you're trying to get out of the course. They can also reinforce ideas that you may not have grasped in class.
KSB: Which Kogod class or classes have most influenced your career goals? How?
ZP: I came to Kogod with a marketing specialization, but when I took "The Edge of Information Technology" (ITEC-200), it was the first class I had in college that everything "clicked" in my brain and I was excited. I immediately knew Information Technology was right for me. In ITEC-200, I received an introduction to information systems used in marketing and management, and learned basic key concepts of the field, such as how computer hardware, networking, and security works.

I knew cyber security was also a path I wanted to take when I took Cybersecurity Governance (ITEC-596) last semester. I learned that it is a field that's constantly changing, and a field that has a lot to do with education on the managerial and individual level. This excited me because I ultimately want a job where I get to work and interact with people.
KSB: In what ways do your passions influence and inform your career choices?
ZP: I am most passionate about continuing to learn and helping others. IT consulting would allow me to learn about how organizations in different industries work while I help make their processes more efficient.
The same goes with cyber security – I could help others while simultaneously learning. By learning about companies and industries in need of good cybersecurity, I will be able to provide companies with education and information they need to protect themselves and their employees.
KSB: If you could retake a Kogod class, which would it be and why?
ZP: I would retake my Business Process and Requirements class because I got so much out of it, and could learn even more if I took it again.
Our project on AU Student Retention really stuck with me. We worked with the Office of Student Retention to interview different AU colleges' advisors about their experiences with students, and what thoughts they have on increasing student retention. The project was semester-long and gave me insight into what it would be like to be a consultant. It also gave me vital teamwork skills, and helped me learn how to work with lots of different peoples' schedules.
KSB: Which Kogod professor or professors impacted you the most? Why?
ZP: My two professors of my cyber security class, Laurie Schive and Craig Stronberg, taught me that there is more to IT than meets the eye. Often when people think of Information Technology, they immediately associate it with computer programming or software management. Schive and Stronberg taught me that there is a soft side of IT that matters. Cyber security is important and people will still listen and respect you even if you are not just coming to fix their computers.
Additionally, Professor Lindsay, my Finance 365 instructor, showed me that he truly cared and wanted the best for me. I occasionally need extended time on my exams, which can be stressful because the rest of the class finishes before me. Lindsay was really sensitive to this and made sure I had the space and time I needed to finish. He really stressed that he wanted me to succeed. I appreciate him so much.
KSB: Which guest speaker has been the most notable in your Kogod courses? Why?
ZP: The most influential guest speaker I've had was from Deloitte. He told us that your career is not defined by your degree, and explained that he is still learning what he does and does not enjoy.
I thought that was a great thing to say to upperclassmen trying to enter the workforce because it empowers us to keep learning. This desire for knowledge will always be a part of me—where that means getting another degree, or working in various fields and industries. It was validating to hear that it's okay to continue questioning and learning when you are out of school.
KSB: Which of your internship or work opportunities during your studies has been most impactful for you? How did Kogod help support these opportunities?
ZP: I currently work at DC-Homeland Security and Emergency Management Agency as an IT intern, which an AU Career Center advisor helped me find and secure. It's really a dream opportunity because I'm essentially working at an internship tailored to the future career I want. I'm acquiring the hard skills I need in IT and the soft skills I need as a consultant, while simultaneously learning how a local government agency works.
KSB: What advice do you have for prospective students?
ZP: Take an entry-level class and learn about all the specializations the school has to offer! Even if you don't think you are a business student, try it out—don't limit yourself to one major or one school. Kogod really does have something to offer to everyone!
KSB: What is your greatest take away from the Kogod experience?
ZP: My greatest take away is that I feel prepared for the "real" world. I have had a great support system along the way that have allowed me to learn and get the most out of what I wanted to get out, not what I had to.