Business
Enter Business Student, Stage Right How Zachary Fernebok Conquered Graduate School Stage Fright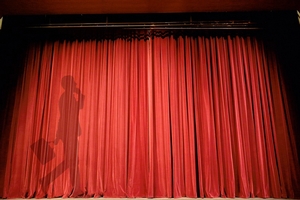 "But you're a playwright!"
That was one of the more popular responses I got when I told my friends I was going to Kogod School of Business to pursue a Master of Science in Marketing. It didn't matter that I had more than five years of experience working in marketing. I had a theatre degree and ridiculously good-looking headshots. I was an artist, first and foremost.
But when I started at Kogod last August, my identity as a playwright betrayed me. For the first time it felt like a limitation. I came to Kogod to dig deep into marketing. I wanted to learn what my previous jobs couldn't teach me, and finally figure out how the heck to calculate a return on investment. Yet, I was paralyzed by fear of not being good enough.
I learned pretty quickly that it was an irrational fear thanks to my amazing professors and stalwart cohort of classmates. Or, as we like to call each other: cohos. Through my integrated marketing and communications class, I was reminded of the reason I fell in love with marketing in the first place. It is another form of storytelling; like playwriting, the number one goal is to connect with your audience. In marketing, connecting with your audience is what earns sales and loyalty.
In my brand strategy class, I discovered that thinking strategically is the same as thinking creatively. Sure, if I was marketing a new brand of charcoal I would highlight its low cost and ease of lighting. Wouldn't it be more compelling, though, to advertise grilling outside with your family and friends, with charcoal just a part of that meaningful experience?
Now, after one short year, I have the foundation necessary to work at a marketing agency, which used to be only a pipedream. One of the best parts of the MS in Marketing program at Kogod are the site visits to dozens of marketing agencies in the DC area. These experiences demystified my perceptions and showed me that, just like any other job, it's about two things: the work and the people. Kogod showed me that my goals were not just attainable, but totally within reach. One day, I know that my creative writing will give a voice to a brand or an organization.
In a week I am graduating with fourteen dedicated and talented individuals after one of the most formative years of my life. I have gained new skills, a new way of thinking, and a newfound confidence. I used to find using a calculator more frightening than performing in front of a couple hundred people. Now I'm fairly certain I could crunch some numbers on stage without breaking a sweat (depending on how hot the spotlight is).
Sure, I'm a playwright. But I'm also a Kogod graduate.