Business
Growing a Global Perspective JD/MBA students travel to the United Arab Emirates for the Global Consulting Practicum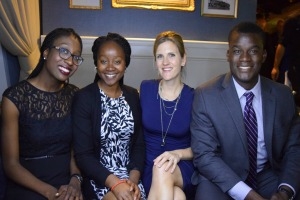 For Ayomide Oluleye, JD/MBA '17, pursuing two degrees at once is all about broadening his perspective. "One reason this program is so valuable is because it exposes students to multiple ways of thinking," he says.
Oluleye's most enlightening academic experience has not happened while studying in Washington, DC, however. He's learned the most by applying theory to practice outside the U.S.—a philosophy that is core to AU's JD/MBA program.
"An international focus increases our breadth of knowledge," says Michelle Emokpae, a fellow JD/MBA candidate. "Studying how businesses operate in other countries helps us understand different viewpoints, which shapes us into more versatile, well-rounded professionals."
Oluleye and Emokpae experienced this first hand on their trip to the United Arab Emirates (UAE) this past May. A part of the program's Global Consulting Practicum class, the trip provided the opportunity to work directly with a UAE-based company, giving students the chance to practice their consulting skills in a different culture.
"Global practicum courses like this are important because they allow students to use their knowledge in real-world situations," says Emokpae. "We utilized our law and business skills to provide consultation to an actual international client."
Along with two other classmates, Oluleye and Emokpae met with Opsys, an engineering firm that develops fire prevention technology. The four-person team strategized with the company on how to market products in the U.S., building on their initial research conducted at AU. "The opportunity to meet with the client brought our team great clarity, and helped us develop rapport with them," Oluleye says. "Working on a project that's important to the company's long-term growth is incredibly gratifying."
Working with Opsys also provided insight to the business customs of the region as a whole. The company's dedication to creating a safer and more secure society is not an isolated effort; it supports a philosophy pervasive across the country's business sector. "UAE companies want to use their resources to benefit humanity and make people's lives better. This was apparent after meeting with Opsys, and from observing the practices of other local businesses," Emokpae says.
Both Emokpae and Oluleye admit the JD/MBA program's international focus was a powerful draw to enroll. The Global Consulting Practicum, plus the plethora of international business and law courses offered, strongly aligned with their professional goals.
"Many JD/MBA students are pursuing careers at the intersection of international law and global business," says David Bartlett, Director of Kogod's Full-time MBA Program. "This international experience helps advance their career objectives, and enhances the quality of their academic experience at AU overall."
Structured as a four-year degree, the JD/MBA program provides the opportunity to pursue academic paths in both law and business. Courses equip students to approach both disciplines with the expertise of the other, facilitating an interdisciplinary understanding of both professions. Students enroll at both Washington College of Law and Kogod School of Business.
Oluleye believes obtaining both degrees will give him the expertise he needs to succeed in either field, and diversify his career options. "I chose both courses of study because I value my holistic mindset. Having both degrees is a powerful combination that will give me the flexibility to begin my career in both law and business," he says.
Emokpae agrees. "This program provides us with the practical tools for innovative and sound consultation, whether we choose to be a lawyer or a business professional."
Moving forward, Bartlett hopes JD/MBA candidates will continue participating in the Global Consulting Practicum. He advocates for the experience as a highlight of the program—one that strengthens both the student's individual experience, and the JD/MBA curriculum as a whole. "The JD/MBA students represent one-third of the current Full-time MBA cohort, and they rank among some of our highest achieving students," Bartlett says. "The trip only strengthens their skills and the overall impact of the program."
His comments ring true for Emokpae, who also advocates for the trip as an invaluable experience. "To see first-hand what UAE businesses have achieved, and what they intend to do in the future, was truly amazing," she says. "I will always be grateful for this opportunity."