Business
A Bridge to the Future Kogod senior Hailey Russell reflects on her summer and her plans after school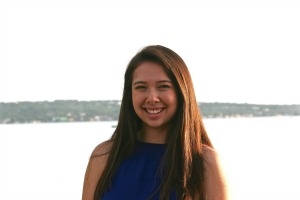 Hailey Russell, BSBA '17, is ready to start her next chapter. As she begins her final year at Kogod, she is already looking forward to a bright future post-graduation.
"I'm thrilled to have a full-time job lined up when I finish," Russell says. "I feel really fortunate my plans are already set."
This Summer, Russell interned at the United Services Automobile Association's (USAA) headquarters in San Antonio with their wealth management and investment services team. After completing her internship, Russell was offered--and accepted--a full-time position when she graduates in the Spring.
Russell thinks her studies at Kogod prepared her well for her work with USAA this Summer. She is constantly challenged to collaborate with her peers on different projects, which prepared her to effectively and creatively work with her team in San Antonio. "I've worked on countless group projects at Kogod," Russell says. "This experience enhanced my teamwork, leadership and presentation skills, all of which I used daily at USAA."
Russell is excited about many aspects of her senior year. She plans to continue exploring Washington, DC, and all it has to offer professionally and personally. She's also looking forward to deepening her business skills through her final coursework.
Most of all, though, she wants to simply enjoy the time she has left at Kogod. "It's not so much what I want to achieve this last year, as it is what I'm looking to cherish. These past four years at AU have been some of my most formative. I want to live in the moment, and enjoy every piece of it," she says.
Read more about Russell's summer internship, experiences at Kogod and plans for the future below.
A Defining Summer Experience
As an intern with USAA, I was an integral part of their private wealth management and investment services team. I regularly interacted with the company's executives, and was treated the same as any other staff member. I think this really speaks to their strong corporate culture.
I can absolutely say that my coursework at Kogod prepared me for the internship. All the group projects I've worked on in class directly translated to my work this summer.
At USAA, I analyzed data, prepared modules, and presented findings with my team. Kogod prepared me to effectively deal with team dynamics, communicate to a large and diverse audience, and prepare for my weekly presentations.
A Bridge To the Future
I'm so excited they offered me the job. I'm convinced working for USAA is an ideal fit for me -- I've never worked for a company who cares more about its mission and the people they are serving. I went to work each day with a purpose, which was very uplifting and motivating.
I can't wait to start my career in San Antonio when I finish at AU. I'm delighted (and also a little relieved!) to start my senior year knowing my plans post-graduation.
One Final Year at Kogod
One of my BSBA specializations is Entrepreneurship. I'm really looking forward to taking my final courses in this area. I find them incredibly interesting and they always push me to think outside of the box in new, innovative ways.
I'm also excited to work as a peer counselor for Kogod's Center for Career Development (KCCD). I remember being a Freshman and having a KCCD peer counselor review my resume. Their advice and willingness to help inspired me to become a counselor myself. I'm happy I'm able to pay it forward in my last year here.
My biggest goal for the year is just relishing the time I have left. Even though I'm excited for the future, it'll be sad leaving after graduation. Going to school in the nation's capital is such a unique experience, and I want to take advantage of every last bit that DC – and AU – has to offer.