Business
The Best of Both Worlds JD/MBA student advocates for studying both law and business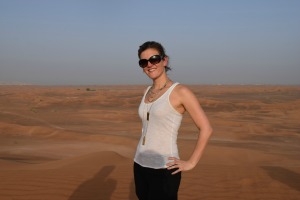 JD/MBA student Kiki McArthur sees business in everything. Exploring its underlying power in society is a major goal of her coursework, after all.
"Business plays a role in nearly all aspects of life—especially in law," McArthur says. "Pursuing the dual law and business degree helps me appreciate how the two fields are intertwined, and how they connect to humanity as a whole."
McArthur, a passionate law aficionado, first grew interested in business while serving as president of a non-profit in New York City. She realized there were more efficient ways of running the organization, and was curious how she could creatively solve the problems she faced. "I recognized the importance of solid business skills, and wanted to make sure I stayed as in tune with that world as possible," she says.
Kogod School of Business and Washington College of Law's (WCL) JD/MBA program offered the perfect opportunity to do so. A four-year track that allows McArthur to pursue degrees in both fields simultaneously, the program equips students with an in-depth, interdisciplinary understanding of both professions.
McArthur was especially drawn to the program for the international experiences it offered. A strong advocate for studying abroad, she knew she wanted to integrate different cultural perspectives into her studies—specifically in international business.
The Full-time MBA program's Global Consulting Practicum and trip seamlessly fulfilled this desire. The course, a core part of its second year curriculum, challenges student teams to develop a project for an international client—and travel to their home country for a one-on-one meeting. This year, students ventured to the United Arab Emirates (UAE), marking the program's first trip to the Middle East.
"Going to the UAE opened my eyes to a completely new culture, and showed me that other places have incredibly valuable ideas to offer the world," McArthur says. "It helped me recognize that we, as a country, would greatly benefit from being open to other cultures and their practices."
Her relationships with her professors have proved equally as impactful. McArthur admits that while her coursework is engaging in and of itself, it's really the faculty who have defined her experience. "All of my professors are incredibly helpful, excited to teach, and make themselves available for help," she says. "The individualized attention I've received at AU is amazing."
This personalized approach was a priority for McArthur when considering programs. She wanted to study somewhere she felt truly valued as an individual. "At WCL and at Kogod, I've always been treated like a person, not just a number," she says. "I could tell from the beginning this was a place that really cares about their students."
After graduation, McArthur plans to work as a litigator for a law firm in Austin, TX, with hopes of one day becoming a judge. She's chosen to pursue a career in law, but will carry her Kogod education with her through her business-minded approach to her job.
"Kogod has provided me with a solid foundation in business so I can be even more successful in the legal world," she says.
She is confident the JD/MBA program will help her reach her goals—both in the short-term, and long-term. "WCL and Kogod have helped me figure out what matters to me, and how to get it," McArthur says. "I fully believe that the JD/MBA program allows you to fulfill whatever ambitions and dreams you have."