Business
MBA student improves his educational ROI at Kogod Student Spotlight: Sam Schofield, FTMBA '17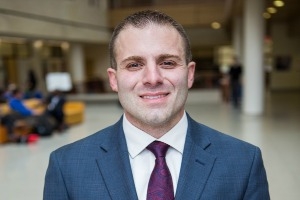 When Sam Schofield, FTMBA '17, was looking at MBA programs, he knew he wanted a program that offered the best return on his investment--both inside and outside the classroom.
Schofield was no stranger to the business world prior to starting Kogod's Full-Time MBA program (FTMBA). He's worked as a sales consultant for an international education company, and spent five years as a grant-writer for EcoLogic Development Fund, a non-profit that implements sustainable development projects with rural communities in Central America and Mexico.
Schofield wanted to take his business acumen to the next level "I needed to develop better management and leadership skills, and I wanted to gain more comfort with financial analysis and assessing an organization's performance on multiple levels," he says.
Given his interests in political economics, national security, and international consulting, Washington, D.C., was the perfect location to pursue an education. Schofield knew Kogod's small cohort sizes and its diverse faculty offered the greatest ROI.
"Kogod's FTMBA program exposes students to a wide range of disciplines a manager must understand in the 21st century," Schofield says. "I understand business accounting practices and financial concepts much more deeply now. The program offers a strong focus on information technology, human capital management, and consulting methodologies--all tools that are becoming increasingly important in the business world."
Kogod FTMBA students apply consulting skills learned in the classroom to real-life as part of their Global Consulting Practicum class. The course challenges teams of students to develop a project and strategic recommendations for an international client, and travel to its home country for one-on-one consultation meetings. This semester, Schofield is working on a global consulting project with a client in Colombia.
From cultural connections to cyber connections, Schofield's work and interests have also expanded outside of the classroom. He works for the Kogod Cybersecurity Governance Center as a part-time research assistant. The faculty-led initiative focuses on providing actionable research for executives and board members for managing cyber risks in their organizations.
Schofield is excited about the Center's work, and encourages other Kogod students to read their findings. "Cybersecurity is not just about understanding software, coding, and programming. It is the biggest threat to a business' operational sustainability and intellectual property in this day and age," he says "Managers need to understand how to make the appropriate investments in both human and technical capital to manage these risks and protect their businesses."
After graduation, Schofield hopes to work for a boutique consulting firm in D.C., assisting multi-national companies in dealing with government relations challenges and risk-management in foreign markets. Schofield feels confident his education at Kogod has given him the tools to succeed in the future. "I thought Kogod would be a good environment to make new personal and professional connections and build strong relationships with faculty at the school," Schofield adds. "It seemed like a very close-knit and collaborative environment--and it is."