Business
Kogod Hosts Online Immersion Courses for MBA and MSaN Students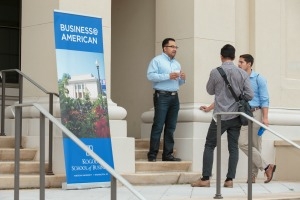 The weekend of September 16-18, 2016, AU's Kogod School of Business welcomed over 100 online graduate students to campus for the first time. Students from across the nation arrived ready for three days of networking, panel discussions, and group work, excited to meet their professors – and each other – in person.
"Kogod's online immersion weekend is an invaluable experience for both Kogod faculty and staff, and for the students in the program," says Maureen Breslin, Director of Online programs at Kogod. "For faculty and staff, it brings online students' excitement and energy to campus. For students, the immersion courses allow them to put their learning into action in the classroom, and in the business world."
The Business@American online program features face-to-face "immersion" courses for its two programs: The MBA Immersion—Business in the Capitol, and the MS Analytics two-part capstone. These intensive courses bridge the gap between remote and on-campus learning by facilitating a space for students to meet and work in a real-world setting.
The weekend brought together students enrolled in immersion courses in both programs. MBA Business in the Capitol immersion students visited and worked with Business Improvement organizations to design projects that would improve DC's economy; MS Analytics students fulfilled their first Capstone course consulting Capitol One bank.
"Students leveraged the skills they've learned throughout their degrees to address the problem at hand, and ultimately present their research and recommendations to company representatives and faculty members," explains Jeff Rinehart, Executive-in-Residence at Kogod.
MBA students' work aligned with the Global Cities Initiative, a Brookings-Institution led project that aims to grow regional economies through stronger international connections and competition. Groups spoke with Marek Gootman, director of the worldwide initiative, as well as Kogod's Bob Sweeney, who manages the Initiative in DC. "The group projects were creative and well thought-out," says Sweeney. "The students were amazing."
The immersion wasn't all work, though. Students also enjoyed a number of events where they could socialize and explore the city together. The weekend featured a networking happy hour, a group dinner, campus tours---even a walking ghost tour of the city.
On Sunday evening, students left campus with a deeper connection to their profession, to Kogod and AU, and to each other. Networking and group work were certainly priorities, but the MBA and MSaN online immersion had a much broader goal: ensuring online students felt fully part of the Kogod community. "I hope they left knowing they are as important a part of this university as those that are here physically," Sweeney says. "Their contribution to AU is crucial, and we're so glad they joined us this weekend."