Business
The Discipline of Investment Kogod's Third Annual Sovereign Wealth Fund Conference Educates Students, Faculty and Practitioners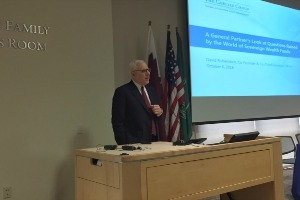 For Kogod School of Business Professor Ghyiath Nakshbendi, sovereign wealth funds aren't just an investment vehicle. They're a discipline. "Sovereign wealth funds have a significant impact on the global marketplace," he says. "Examining and understanding how they're managed is complex, but essential to one's career as business professional."
Sovereign wealth funds, an industry term for government-owned investment funds, are a significant source of capital for countries worldwide. The Funds – currently valued around $7 trillion globally -- draw from assets such as stocks, bonds, or real estate. While governments can utilize these reserves at any time, they're commonly used as "rainy day" funds, subsidizing a country's financial needs not covered in their budget.
Their substantial economic impact is a key reason why Nakshbendi thinks his students must be well-versed in the subject. By understanding how sovereign wealth funds operate and affect the marketplace, students gain a broader view of our global economy.
This belief – as well as his passion for the subject – was the genesis for Kogod's annual Sovereign Wealth Fund Conference. Founded in 2014 by both Nakshbendi and Jeffrey Harris, chair of Kogod's finance department, the conference brings together industry experts to examine an economic issue affecting sovereign wealth funds. This year's event was held on October 6, 2016, from 8 a.m.-1:30 p.m. at the School of International Service.
"We were once again delighted to host finance professionals, government ambassadors, business executives, lawyers, and academics for a day of discourse around sovereign wealth funds," Harris says. "The speakers gave attendees deep insight into the subject from U.S. and international perspectives."
The October 6 conference examined how the declining price of commodities – specifically oil -- is affecting the funds. Because many sovereign wealth funds are financed by oil, its decreasing value also drastically impacts the funds. Panelists discussed how to best deal with this economic challenge -- and if sovereign wealth funds could ultimately survive in the marketplace.
"This is an issue that's stricken the sovereign wealth fund community during the last 12 months," Nakshbendi says. "It's a serious problem we need to think about."
Speakers included economy and finance professionals from across the world – notably David Rubenstein, CEO and co-founder of one of the world's largest private equity firms. Other industry leaders also participated, including the President of the Qatar Investment Authority Advisory, Deputy Division Chief of the International Monetary Fund, and Founder of Greystone Advisory Group.
The conference's high-profile attendees provided students the chance to network and garner career advice. "I always want to give my students lots of opportunities to meet the right people," Nakshbendi says. "That's how they get internships and jobs."
The event also offered a valuable promotion and recruitment opportunity for the school. "My ultimate goal is to expose the guests and speakers to what we do here," Nakshbendi says. "We have excellent programs, a diverse faculty, and an engaged student body. We've got a lot to be proud of."
Nakshbendi has ambitions for the conference well beyond the one-day gathering. He hopes to offer a sovereign wealth funds course at Kogod in the near future, which will connect to the themes and issues examined at the annual conference. Doing so aligns with his view of the funds as a discipline—one he believes is crucial for his students to study.
"To the best of my knowledge, there is no such course offered in DC, or anywhere else in the US," Nakshbendi says. "This will help our students be good candidates for employment at these funds worldwide."
By providing a space for sovereign wealth fund scholars and professionals to assemble, he knows he can deepen his students' education and promote Kogod as a business school. "The conference helps open their eyes," he says. "I hope this can serve as a path towards a richer future – for my students, and for AU as an institution."