Business
Kogod Hosts Panel on Potential Impact of Trump's Policies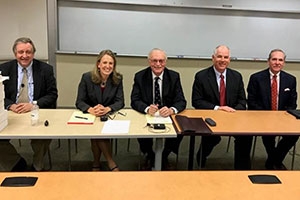 On November 18, 2016, the Kogod School of Business hosted a panel discussion entitled "The Presidential Election's Impact on the Business Landscape." Professors Jeff Harris (Gary D. Cohn Goldman Sachs Chair in Finance), Tomasz Mroczkowski (Professor of International Business), Siri Terjesen (Associate Professor of Management), and Don Williamson (Professor of Accounting and Executive Director of the Kogod Tax Policy Center) participated as panelists, with Professor Bob Sicina (Executive in Residence, International Business) as moderator.
Panelists discussed how President Trump's policies could potentially effect U.S. businesses. The panel is part of a series of ongoing conversations at Kogod about the election and its impact on the nation. Topics ranged from Trump's view on Wall Street reform and the Consumer Protection Act (CPA), to how the US' position in the global market could change. Panelists examined questions like "Will he repeal or amend the CPA?" and "How will a potential trade war effect the typical American consumer?" The influence on taxation and the impact on business entrepreneurship were also explored.
In general, attendees revealed a deep sense of unease about the future of US businesses. One student asked about President-elect Trump's views on climate change, and how that might impact "green business." Another asked about a potential explosion in our national deficit.
Panelists gave peace of mind to attendees, however, with a sense of realism about what policies can and can't be changed. They shared their hope that immigration isn't negatively impacted, and that entrepreneurship will be encouraged by maintaining our Start Up Visa Program. As Professor Harris noted, he is confident that American will remain "the land of opportunity."
View pictures from our panel event on Facebook.