Business
A Passion for Exploration Alumni Spotlight: Jenny Yoo, MSMKTG '14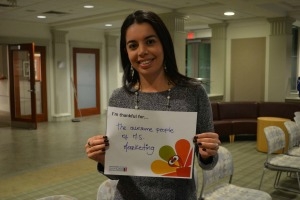 Jenny Yoo, MSMKTG '14, is all about exploration. A former graphic designer who's worked in everything from advertising to product development, she believes in learning as much as she can, in as many places as she can. "I've always loved working in lots of different industries. It's one of the reasons I love marketing so much. It's very versatile," Yoo says.
It is this sense of adventure – and thirst for knowledge – that motivated her to pursue her Master of Science in Marketing (MSMKTG) at the Kogod School of Business. A one-year program that offers classes in brand management, digital strategy, social media, and advertising, Kogod's MSMKTG degree gave Yoo the intellectual variety she craved.
She especially loved the applied client project, which allowed her to apply skills learned in class to a hands-on project with her peers. Students partner with a DC marketing firm to design a campaign from start to finish, giving them real-world experience while still in school. "It was my favorite part of the program. Getting on-the-job experience before graduation was incredibly valuable," says Yoo.
Yoo, now a Senior Brand Strategist at Capital One, credits Kogod's MSMKTG program for helping get her to where she is today. "I use the knowledge and skills I acquired in my classes every day on the job," she says. "Segmentation, business strategy, data analysis – it was all covered in my coursework."
Yoo is excited to keep exploring her professional self at Capital One. She's proud to carry the Kogod name with her, and is committed to continuing to grow and learn—one new adventure at a time.
Read more about Yoo's Kogod experience, as well as her current and future ambitions, in her interview below.
Kogod School of Business: Why did you decide to pursue a career in marketing?
Jenny Yoo: After working as a designer for several years, I started to think a little more long-term about what I wanted in my career. Marketing offered so many different options, and I loved the flexibility that offered. When I looked at the career options available in DC, it was a no-brainer.
KSB: In what ways did the program help you determine what part of the industry to go into?
JY: When I came here, I had the same questions everyone had: "Now what? What type of marketing do I want to pursue?" My strategic planning class with Professor Swaysy was really an eye-opener. After taking the class, I realized I really wanted to pursue a career in marketing strategy. I wanted to understand a company's business intent and objectives so I could help design better marketing campaigns for organizations.
KSB: Why did you choose Kogod's MSMKTG program over others like it?
JY: It really had everything I was looking for. AU is a perfect fit for me. I knew that all the things I would learn I'm really passionate about, and would give me the tools to pursue a career here. It was an easy decision. I'm so happy I could study here.
KSB: Was there a part of the program that was especially impactful?
JY: I loved meeting and working with my classmates. 80% of my class was international, which provided really different perspectives. Seeing people from not just the States, from around the world, the way they perceived marketing; they wanted to do in their career, was a really enriching experience.
I also loved our applied client project. We worked with Red Peg Marketing, a local events marketing firm, to design a marketing campaign for Enterprise Car Agency. It was great to meet people from the company, understand their vision, and learn about their target segments. It really helped me integrate what I learned in the classroom to the real world.
KSB: Were there any challenges during your time at AU?
JY: The program was still new when I started, which meant the curriculum was still developing, too. A positive of this was I got to help shape the program with my feedback. In my exit interview, Professor Clayton asked me to honestly share my experience so they could improve the program for the next class. I liked that I got to be a part of that.
KSB: Can you talk about the work that you're currently doing?
JY: I work for Capital One as a Senior Brand Associate, where I lead all the marketing strategies for the Hispanic segment of the company. I work in McLean, but 80% of my team is based in Richmond, so I'm constantly on the phone, on skype or traveling for meetings.
We're currently launching an app in Spanish, and I've been working on the marketing strategy for it. I've had to connect with our art director, analyze what we wanted to give to our customers, examine our message, and collect input from my team. It's been really challenging, but I've loved every minute of it.
KSB: In what ways did the program prepare you for what you're doing now?
JY: My classes directly translate to the work I'm doing today. My business strategy class with Professor Swasy taught me how to successfully design and implement marketing campaigns. I also took a class that focused on segmenting your audience, and how to reach populations with different messages. I use the skills I learned in both of these classes every day at my job.
KSB: What are your future goals and ambitions?
JY: Honestly, I'm so happy with Capital One that I don't see myself leaving anytime soon. I've always wanted to give back to the Hispanic community, and the company has spent a lot of money in marketing research talking to Hispanic customers. They've really encouraged me to connect with our Latino audiences and listen to their needs.
They're also an organization with a lot of integrity. We talk about banking for good, and teaching our customers how to use credit wisely. They want to bring humanity and simplicity to banking, and help people feel successful in it.
KSB: Do you have any advice for Kogod students?
JY: Just be patient. It's difficult, but everything in life is worth it. All the classes you take and jobs you work will give you the skills you need. In the workforce, you are constantly learning and growing. Make sure to give yourself the time and space you need to do so.
Interested in learning more about our MS Marketing program? Visit us online today.