Business
MBA Student Travels to Colombia for Consulting Project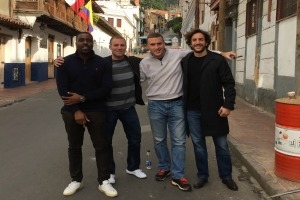 Sam Schofield enrolled in Kogod's Full-time MBA (FTMBA) program wondering how he could impact the international business community. He wanted to affect change on a global level—a passion he knew the FTMBA program would nurture.
The Global Consulting Practicum gave Schofield the international experience he needed. The course, completed by all second-years, pairs student teams with an international client to solve a problem integral to their business' operation. The project culminates with a visit to the client's home country where teams conduct site visits and explore the local culture.
"The global project gave me a first-hand look into an international client's business operations," Schofield says. "Traveling to the client's country was especially enlightening. I got to see parts of the industry I couldn't have otherwise."
This semester, Schofield and his team traveled to Colombia, where they helped an aquaculture company strategize how to sell their products in the U.S. He describes his experience as "challenging" and "eye-opening." "It was definitely the highlight of my time at Kogod," he says. "I got to apply so many concepts I learned in the classroom to real life."
Read more below about how the FTMBA program's global consulting project helped Schofield make the impact he desired.
The Client
We worked with Pezco Aquaculture Farming LLC, a company that sells fresh tilapia filets, burgers, sausages, and patties in Latin America and the US. Pezco was founded by two Colombian brothers, Juan Carlos and Luis Ignacio Libreros, who pursued careers in corporate America before returning to their country to start an aquaculture business.
I admire Pezco's sustainable business practices. They minimize waste by maximizing the use of every part of the fish. The company grounds fish skin and bones for fertilizer, and they sell the tilapia scales for jewelry. They also are responsible about how they manage their water; at the fish farms, pond water comes from nearby mountain streams.
Our Job
Their products are successful in Colombian markets, but they needed help advancing in the U.S. market. That's where our team came in—we helped Pezco develop a US market entry strategy. To do this, we began in August with extensive market research on aquaculture and farm-raised fish in the US. We also conducted several consumer testing sessions here in DC, and conducted interviews with industry experts in D.C. and Colombia.
The second phase of the project was the visit to Colombia. The in-person visits to their processing facility and interviews with staff allowed us to evaluate how feasible our initial ideas were.
The Process

We spent the first week in the capital, Bogotá, where we met with stakeholders in the agriculture and aquaculture industries. This included meetings with the former Colombian Minister of Agriculture, the Marketing Department of Universidad de la Sabana, and the Federación Nacional de Cafeteros, which promotes Colombian coffee. They gave us great insight into market development opportunities and strategies for Pezco.
The second week we traveled with Luis to visit their tilapia processing facility, and met with members marketing staff and various distributors of their value add products. We were very appreciative of the hospitality and professionalism of the Libreros' brothers and the respect and clarity they give us consultants. It motivated us to work twice as hard to deliver a quality solution.
Now that we're back in the U.S., we are finalizing our report to Pezco, and will present our final recommendations on December 19.
A Valuable Connection
Before Kogod, I worked for a non-profit that helped communities in Central America with sustainable development. This gave me a personal connection to Pezco, which I loved. It was empowering to know I was helping a company with business practices that are good for their community, and the environment.
Back at Kogod
From an academic standpoint, the project is finished once we deliver our report to the client. However, we have had a very strong and productive relationship with Pezco and we feel confident a lot of our recommendations will be seriously considered.
Most of all, this experience has made us better critical thinkers, and capable of quickly sizing up a business and diagnosing a problem. That's something any effective consultant--or manager, for that matter--needs to be able to do. I also think the project challenged us, but ultimately made us more confident in our skills and abilities. ________________________________________________________________________
After graduation, Schofield hopes to work for a boutique consulting firm in D.C., helping companies deal with government relations challenges and risk-management in foreign markets. He knows the skills he gained through the global consulting project will help him excel.
Visit us online to learn more about Kogod's FTMBA program, and global consulting project.