Business
Kogod Students Succeed at Global Case Competition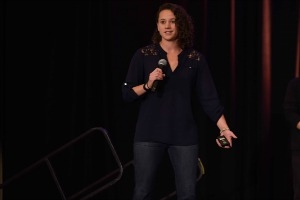 Current PMBA students Kelsey Branch and Christopher Correnti never thought they'd pursue business degrees. They also never dreamed they'd become active student leaders at Kogod -- leaders who would represent the school at a national level.
Branch and Correnti, both scientists, were attracted to Kogod's PMBA program for the career prospects and intellectual rigor it promised. "I loved how intensive the program was, and that it opened me up to an entirely different professional world," says Correnti.
The Beta Gamma Sigma (BGS) Global Leadership Summit and case competition promised the same opportunity for professional development and mental stimulation. The national gathering was exactly what Branch and Correnti were looking for to put their business expertise to the test. "It was the perfect chance to network and learn from different people's experiences," says Branch.
This year's conference, held November 3-6 in Dallas, featured an impressive array of panelists, networking events and presentations. Speakers included business leaders such as Dimitri Stockton, Senior Vice President of GE Company; Tom Robinson, President and CEO of AACSB International; Amy Hall, Director of Social Consciousness at Eileen Fisher; and Alyssa Preston, founder of Sage, LLC.
The conference's real focus, though, was the case competition. Structured after the traditional business school event, case competition organizers prepared six different cases and assigned student teams to each. "Six groups worked on each case, so we were competing against five other teams," Correnti explains. "It was pretty grueling. We only had five hours to decide on a solution, create a powerpoint, and prepare our presentation for the judges."
Both accepted the challenge ready to learn and work hard with their teams. What they didn't expect, however, is that they'd help lead their teams to victory.
Their reward? Yet another challenge.
Case category winners presented in front of the entire conference, showcasing their business solutions to over 400 conference attendees. "It was exhilarating to receive that kind of recognition," Branch says. "My team was really excited to share our work with the rest of the conference."
The fact that some of the nation's top business executives were present was an added bonus. Presenting to a room full of CEOS and company presidents was an invaluable professional development opportunity—for students and business leaders alike. "Our solutions gave business leaders fresh perspective on their problems," says Correnti. "It was also a brainstorming session for companies."
Branch and Correnti attribute their success in large part to their teams' mixed skill sets. Conference organizers intentionally assembled teams based on varying strengths, challenging students to leverage each other's intellectual assets. "This helped us find a solution that was nuanced and different enough that we won our category," says Branch.
Their teams' diverse makeup isn't the only reason for their victory. Both also believe their education at Kogod gave them a substantial upper-hand.
Correnti describes his coursework as "rigorous" and "continuously engaging." The curriculum's challenging assignments gave him the mindset to tackle the case competition with confidence. "At school, I'm 'on go' 100 percent of the time. My coursework helped me develop the mental endurance I needed for the competition," he says.
His marketing management class, taught by Professor Anusree Mitra, proved especially worthwhile. The course, designed to develop effective business decision-making skills, helped Correnti navigate the complexities of his business case.
"These are the kind of moments where you realize that what you're learning really connects to real-life," says Correnti.
Branch agrees wholeheartedly. "This experience proved that what we're learning in class is useful and powerful, and I can apply it."
For both students, their success was motivating and validating. They each feel empowered to stay invested in their coursework, and are confident that they are on the right professional path.
"I never considered going into business when I was studying science in college, but when I visited Kogod, it really felt like the right fit," Branch says. "Winning the conference's case competition really justified my decision—that yes, I am in the right place. This was the right choice."
"I think that most of all, this experience was validating for our futures," Correnti adds. "Kogod gave us a solid foundation for success. I'm really excited to see what lies ahead."