Business
Finding My Professional Self MSAn student shares experiences from her first semester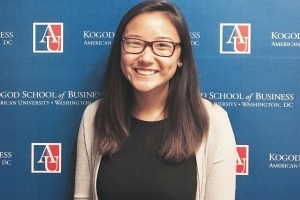 Zoe Pribula, MSAn '17, enrolled in Kogod's MS Analytics program determined to find her professional self. "I knew I was really interested in Information Technology, but I wanted to keep learning and understanding what my best fit was," she says.
It didn't take long for Pribula to set her direction. She received a job offer from IBM before the end of her first semester. "It's been exciting to discover how much more marketable I am with a master's degree from Kogod," she says.
She claims the program's real value, though, lies in its experiential learning opportunities. "I've gotten to work on projects with real clients, and have learned so much from the different professionals who've spoken in class."
Pribula encourages any aspiring IT manager or data analyst to apply to the program. She believes the MSAn prepares students to serve a crucial professional role—especially in the business world. "Analysts are so important because they help organizations make decisions from the data they collect," she says. "The program has taught me how to apply myself in an ever-changing technological world."
Read more about Zoe's experience, and the Master of Science in Analytics program, below
Kogod School of Business: How was your Fall 2016 semester?
Zoe Pribula: I had an amazing first semester in the MS Analytics program! I took Applied Managerial Statistics; Management Information Systems; and Consulting Practices and Methodologies, which gave me a great overview of the field. I learned a lot from each course, and decided that I want to be an IT consultant once I graduate!
KSB: Did you have a favorite course? Why?
ZP: I loved my statistics class. My professor used examples from real-life situations, which challenged me to consider how I'd use class material on-the-job. The course was a good base for the rest of the program because when you analyze data, you need to understand where the numbers came from, and how significant they are.
KSB: Were there any experiences this semester that have really stuck with you?
ZP: For one of my electives, I took a class entirely with MBA students. I don't normally overlap with business administration students, so working with them helped me see things from a pretty different perspective. Everyone came from varying business backgrounds, which taught me a lot about the field as a whole.
KSB: Can you tell us about some of your other projects and assignments?
ZP: In Professor Ulstrup's Management Information Systems course, we were assigned a semester-long group project where we applied an emerging technology to a new industry. My group chose personal analytics and the higher education industry. For the final presentation, he brought in a panel of four highly-esteemed judges who gave constructive feedback and asked questions to help shape our final reports.
The project required a lot of research, collaboration, and creativity, which are skills I can apply to any class moving forward.
KSB: In what ways, if any, do you think the program will help you with your career ambitions?
ZP: What I've learned at Kogod already helped me get a job. This semester, I interviewed with IBM and, used my experiences at Kogod in the behavioral interviews. I answered questions based on case studies we read and projects we completed. I was offered the job, and am excited to start as an IT consultant at IBM when I graduate!
KSB: What are you most looking forward to as you start your second semester?
ZP: Really just continuing to grow. All the faculty and students I've met are so dedicated, smart and motivating—I can learn a lot from everyone I'm working with. I've already gotten so much out of my experience at Kogod, and I'm excited to see what else lies around the corner.
Interested in learning more about Kogod's Master of Science in Analytics program? Learn more online.