Business
AU Sophomore Empowers Turkish Women What giving hope means to Esra Ozturk, MBA '19, founder of Arzo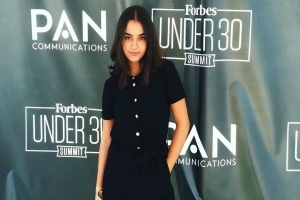 "If you are free, you need to free somebody else. If you have power, then your job is to empower somebody else." – Toni Morrison
Esra Ozturk lives by these words as she navigates being a full-time student and founder of her own company, Arzo. Ozturk is a sophomore born in Istanbul, Turkey, and raised in Northern California. Growing up, she spent her summers back in Turkey with her family. She witnessed the injustice of gender inequality and poverty in Turkey which juxtaposed her life in the United States.
Ozturk recognized the struggles women in her own family have faced for generations. They've faced challenges that inspired Ozturk to take action to empower Turkish women. This is how Arzo was born.
Arzo is an Islamic name which means "hope." Hope is what Ozturk and her team of Arzo Ambassadors strive to give to Turkish women in impoverished communities.
Ozturk developed a buyout system for employing these women. First, an Arzo Ambassador, who is a Turkish native, hand picks women's products, ranging from jewelry to clothes. They "buyout" their products on the spot, providing the women with more compensation in one day than what they see in months. Their products are then sold online, typically doubling the income they would have earned in Turkey.
This process isn't easy. Ozturk's greatest challenge is balancing her studies and her company. "I think finding that balance has been a big struggle," Ozturk says, "but it's the work ethic and perseverance that separates the good from the great." Ozturk draws this positivity from her ambassadors, the women she works with and her mentors from the Kogod Incubator.
The Kogod incubator is an entrepreneurial resource available to students and recent alumni that helps them start their own non- or for-profit businesses. The incubator provides the entrepreneur with office space, a mentor, and other resources one may need in starting a company. "The directors of the incubator have been mentors both professionally and personally, always pushing me to think outside the box and to challenge myself to be a better leader every day," Ozturk says. "I couldn't imagine for a second doing everything alone."
Although Ozturk faces many daily challenges, Arzo has seen a lot of success. Ozturk has sold a wide range of products from shirts to jewelry and scarves. For Ozturk, the company itself is a success because she knows that Arzo has already provided Turkish women with income they need. This past year, Ozturk was chosen as a NextGen Designerfinalist. She was able to showcase her clients' designs at a runway show during DC Fashion Week.
Ozturk hopes her work will empower others to pay it forward. "Everything I'm able to accomplish feels incredible because I know I'm giving back and giving forward. I'm helping those in Turkey with the opportunities I've been given here, giving forward to people who work with me, and setting the precedence for others who aspire to do the same."
Read more about the Kogod incubator and apply for a venture here. Support Arzo and check out the website here.