Business
The Business of Peace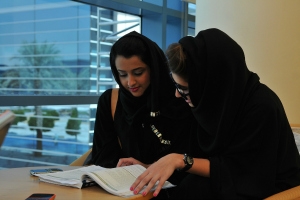 The students at American University are globally-minded individuals seeking change. Regardless of what field or program they are in, this campus produces passionate practitioners who work towards a better global society.
Kogod students are using their business skills to find sustainable solutions to global conflict. Robert Sicina's International Business course "Peace Through Entrepreneurship Practicum" seeks to build peace in post-conflict regions by supporting early-stage businesses. In this course, students work directly with entrepreneurs across the world to create tangible and sustainable changes in their businesses. These entrepreneurs are based in a variety of regions: Tunisia, Gabon, Palestine, Pakistan and others.
Sicina acknowledges that the ambiguity at the beginning of this course is challenging. Students face a myriad of challenges when they begin working with their client. Christopher Mdeway, an alumni of this course, said: "There will be time zone differences and an amazing blur of culture, and students must be ready to change their approaches." Another student working with an entrepreneur in Senegal said: "Projects are characterized by ups and downs. This requires innovative thinking to provide effective solutions."
This course also brings together students from different schools of thought. Half of the students in Sicina's course are students in the School of International Studies. SIS students bring "energy, enthusiasm and creative thinking," says Sicina. SIS students are caught up to speed in terms of business fundamentals, and the business students also learn from the SIS students.
Sicina seeks to dispel the notion that business can't produce positive outcomes for society. "If people don't have jobs, if they don't believe that their children's futures can be improved, then that leads to unrest," says Sicina. Hope in the face of conflict is what students in this course learn. These students are active members in the global society who are making a tangible difference.
Course Description for Peace Through Entrepreneurship. Read more about the projects here.