Business
Finding Business Inspiration in Unlikely Places Kaben Clauson, BSBA '13, discusses how Kogod informed the mission of his new start-up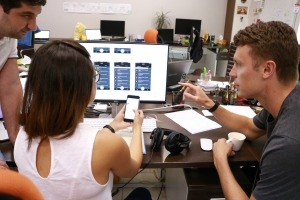 When people read science-fiction novels about space travel, they're likely enjoying a temporary diversion or wondering what the future holds for mankind. They're not coming up with ideas for new businesses.
But Kaben Clauson, BSBA '13, isn't your average reader.
While reading The Songs of Distant Earth, an Arthur C. Clarke novel, Clauson was intrigued by a scene about a spaceship captain who polled his crew about their next expedition. This got Clauson thinking. "It would be really cool to have a world-wide opinion matrix," he says.
This initial thought, combined with the entrepreneurial knowledge he gained at Kogod, led Clauson to co-found the start-up Aop, an opinion-sharing platform for mobile devices.
Preparing to Launch
The app, which launched May 18, prompts users to respond to a series of questions or statements; they then compare answers with individuals in different demographic groups, including gender, age and race. Topics span a variety of subjects, from politics ("Do you consider Edward Snowden to be more of a traitor or a hero?") to relationships ("Has someone you thought you loved ever broken up with you?").
Clauson reached out to Professor Tommy White, an executive-in-residence at Kogod who now co-directs its Entrepreneurship Incubator, before launching Aop for some advice and guidance.
White explained that entrepreneurs must have a "passion for seeing gaps," to identify consumer needs that aren't being satisfied. "You've also got to come up with something that is different--something people would come back to," White said. "I thought [Clauson's] concept was pretty interesting."
White says that "issue-driven" concepts help apps like Clauson's develop core circles of users who engage with the product regularly. And real-world issues are exactly what fuel Aop.
The Vision of Aop: Honesty through Anonymity
Clauson's goals for the company are very much grounded in topics that affect our present-day society. "This last election showed us there are some real flaws in [how] we're collecting people's opinions," Clauson says, explaining how there's an inherent response bias when people share opinions in front of others-whether it's over the phone to pollsters, or via social media to friends.
Aop, which stands for "an opinion" or "anonymous opinion," conceals user identity to encourage individuals to respond more honestly. By shielding users from potential criticism, Clauson says they've seen that people are more inclined to having less popular opinions. "Anonymity is the key to truth," Clauson says.
He's quick to caution, however, that at this early stage it's difficult to draw any grand conclusions about the data they've collected. "It's all scale issues with an app like this," he says. But he does hope that, one day, the app will help people better understand themselves by encouraging them to reflect more honestly.
The Kogod Effect: Purpose over Profit
Clauson also wants Aop to expose users to different points of view. "It's an enlightening experience learning how people who are different than you think."
One of the reasons Clauson chose Kogod was to see outside his own bubble. Growing up in Alaska, most of the people he interacted with leaned conservative in their politics, "and I wanted to be exposed to more diverse views."
Clauson had classes with students from all over the world. "Every day we had [eye-opening] class discussions" where he says he learned how different cultures viewed problems he was interested in, like the government's role in business.
At Kogod, Clauson also learned ethical values about starting and running a business. "They really hammered home not building businesses just for profit," he says.
Believing in Aop's mission is practical for Clauson, too. After the 2016 election revealed the flaws in opinion-data collection, he was convinced that starting Aop could have an impact on an important societal need. "Money's not a good enough motivator for how hard these things can be."
Managing the Present While Looking to the Future
Going forward, Clauson is focused on expanding Aop's functionality. He wants to bring in more data scientists so they can analyze information in interesting ways. He also hopes to hire more engineers to improve the user experience. Most of all, he wants to ensure that users' identities remain anonymous so they feel comfortable responding freely.
Coming up with improvements, on top of maintaining the app and running the business, has been an exacting experience for Clauson. He's been forced to develop new skills, like managing people and organizing staff meetings.
He remembers his Kogod professors warning him about the risks and sacrifices of creating a start-up. But it didn't scare him off. In fact, those classes were the first time he truly saw himself as an entrepreneur. He just needed to find a project that "you truly love and think would be good for the world."