Business
Connecting with Students Inside and Outside the Classroom Professor Ed Wasil wins Graduate Professor of the Year Award—for the Fourth Time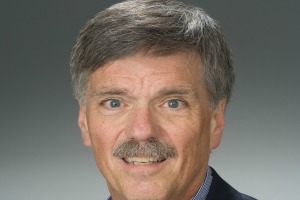 According to Edward Wasil, Professor of Management Science, there are three keys to being an effective teacher: command of the material, preparedness for class and respect for the students. Since he began teaching at Kogod in 1985, he has adhered to these principles every time he enters the classroom.
There are some aspects of teaching, however, that have changed over the past 30 years. Wasil tries to quickly recognize when he needs to adapt.
"I think I was the first professor in the Kogod school to get a Blackberry," Wasil says. As students began to expect access to professors at any time via email rather than at prescheduled weekly office hours, Wasil wanted to ensure he kept up with his students' evolving needs.
"Unless I'm asleep, I typically have a response rate of about 15 minutes," he says. He considers that to be one of his hallmarks as a professor. "I'm available to [my students] when they need me."
Wasil was recently named the 2017 Graduate Professor of the Year—his fourth time receiving the award. Andrew Toczydlowski, Director of Student Development and Services and facilitator of the award, says the honor is based entirely on student votes. Winning AU professors are recognized for their effective teaching abilities and the impact they have on students both personally and professionally.
Wasil says that receiving the award is humbling. "I'm gratified to see that students recognize the kind of quality instruction I'm trying to bring to my class."
Developing—and Maintaining—a Reputation
Wasil has developed a few other hallmarks as a professor, in addition to his rapid email responses.
From the very first day of ITEC-610, Applied Managerial Statistics, Wasil's students understand what's expected of them. He gives them a roadmap that includes the key assessment points and all of the course materials for the semester. He believes the course must be well-organized to maximize students' time.
"[Wasil] created a very positive environment that was conducive to learning, and [he] was very clear about his expectations," says Adam Trent, MBA '18.
The classroom environment is another one of Wasil's hallmarks. "I try to create a relaxed atmosphere in class," he says. "The material is intimidating enough." He also wants his class to be fun and enjoyable. That's why he takes the first few minutes of every class to engage with the students and talk about anything other than statistics such as golf or fantasy football.
"It's hard to teach statistics for three hours, and it's hard to sit through statistics for three hours," says Zoe Bludevich, MBA '18. "But he made it enjoyable and rewarding."
Pushing Students to Think "Beyond Ward Circle"
Wasil has a refrain that he repeats throughout the semester: "beyond Ward Circle." He uses this AU campus landmark as a reference to make sure students understand the relevance of class content.
"He pushed us to think beyond the classroom," Bludevich says. "[Wasil] translate[d] what we were learning to how we would use it in the real world."
When Trent took the statistics class in the fall semester of 2017, he said that Wasil related examples from the presidential election to course material. They examined the discrepancy between the polling data and the election results and discussed the significance of sample size to collect accurate information.
"That is an invaluable lesson that isn't really given in books," Trent says.
Faiza El-Hibri, MBA '18, took away some fundamental lessons that she'll continue to refer to after she graduates. "[Wasil taught us] the basics [that] we need to know to thrive in the professional world and in our careers."
The Desire to Teach and See his Students Succeed
"My philosophy is, when I walk through that [classroom] door, everything in the outside world stops," he says.
Wasil's commitment to extending his philosophy beyond the classroom makes his students appreciate his efforts on their behalf.
"We all wish we had a few more [teachers] like him," Trent says.
Wasil always tries to stay attuned to his students' needs—whether they're educational or nutritional. Before exams, Wasil always brings in home-baked cookies for his students. (His wife makes the cookies, and Wasil says he serves in a "managerial capacity" to oversee their production.) He even taught an online class and mailed the cookies to his students.
Wasil considers himself lucky that he knew early on what he wanted to do with his life: conduct statistics research and teach the material to students. As a scholar and a teacher, "You're disseminating knowledge and you're creating knowledge. You can't do one without the other," Wasil says. "I really like what I do."
Even after teaching for more than 30 years, he says his desire hasn't diminished.