Business
Above and Beyond Blaise Fairfax, MSA '16, shares what made Kogod the perfect fit.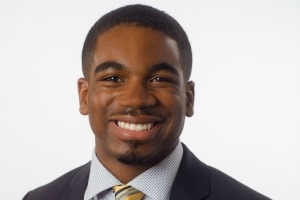 After I completed my undergraduate degree in accounting, I was looking for a master's program that would prepare me for my career. I wanted a flexible program with understanding professors and engaging courses that were applicable to the real world. Kogod exceeded all of my expectations.
Career-Minded, Student-Focused
Kogod School of Business presents so many opportunities for a student to jumpstart their career. From networking with employers at Accounting & Finance Day to interacting with alumni at the Kogod Network, there was always something going on to enhance my future career. I was able to improve my networking skills and meet new contacts to learn more about my field. Moreover, attending events with familiar faces and friends made branching out and meeting new people easier.
An Open and Flexible Curriculum
The MSA curriculum offered the classes I needed to prepare for my CPA exams, explore different career avenues, and try out electives in other fields. The program's structure promotes endeavors outside the traditional MSA set of courses. As such, I was able to have a part time internship, complete two parts of the CPA exam in my second semester, and take fascinating non-accounting courses like " New Venture Startup: Operational, Financial, and Legal Strategies" and "Financial Statement Analysis."
Strong and Supportive Faculty
Professors were considerate working with my schedule and frequently went above and beyond to make sure I was taken care of. Assignments included not only the traditional lectures and exams, but also group work, research papers, and presentations. This offered me a breadth of experiences in class that further equipped me for my current position as an assurance staff at EY.
Overall, my experience in Kogod's MSA program was exactly what I needed. If given the option, I think every student should attend.
Learn more about Kogod's MS Accounting program.