Business
Rising to the Top Passionate and driven, Ariel McMillan, BSBA '13 and BA International Relations, is at the forefront of the marketing field and excited to inspire future generations.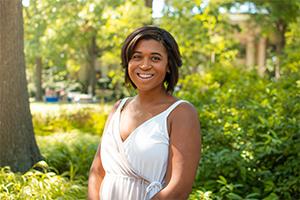 In charting her own path to success, Ariel McMillan, BSBA'13 and BA International Relations, hopes to inspire the next generation of women of color business leaders. 
Throughout her education, McMillan noticed a lack of representation of women of color. Reflecting back, McMillan remembers thinking, "If I don't see it here, then I'm going to be it." Now, she hopes to leave a legacy for other young women of color who dream of pursuing careers in the industry by setting an example through her professional success.
McMillan is an account supervisor at Youth Marketing Connection(YMC)—a marketing agency that connects big brands to millennial and Generation Z audiences—and is putting the lessons learned from her education to work in her career. In just four short years, McMillan used her skill, passion, and drive to become an account supervisor at YMC, one of the highest positions in the company. In her role, she leads high-level strategy, oversees client relationships, and manages the internal team.
"At my age, you have to do the job before you get the job," she said. "That's the philosophy I learned here at AU...to do my job well but also start to take on that next role. If I want it, it's not going to be handed to me." 
That grit, that determination to succeed was planted in McMillan before she even set foot at American University. As a high school student, she attended Maggie L. Walker Governor's School for Government and International Studies, an international high school that led her to pursue a degree at AU's School of International Service (SIS). 
She quickly realized that while she enjoyed her SIS coursework, she needed to develop a set of hard skills. It wasn't until she had the education-altering experience of being a campus brand ambassador for Blackberry that the idea of moving from SIS to the Kogod School of Business became a reality.  
"I...was exposed to the world of marketing and that's where I shifted from this quiet girl on campus and kind of found my voice," McMillan said. "Through that brand ambassador opportunity, I identified marketing as something I really, really liked."
At Kogod, McMillan wasn't just able to develop those hard skills—she thrived personally and professionally. From befriending professors to securing an internship with the Redskins, McMillan quickly found her place on campus. She immersed herself in coursework, joined the Undergraduate Business Association, and tutored her Kogod peers. Looking back, she cites the faculty's involvement with her education as an integral part of her positive experience at the school.
Post-graduation, McMillan found her groove at YMC, rising through the ranks and developing a deep understanding of her target demographic. In her role, she plans to leave another type of legacy, one that will change the perception of millennials and Gen Z in the marketing sphere. McMillan is devoted to studying and truly understanding the intricacies of the demographic she targets to better tell their story. 
"So many people trivialize an entire generation of human beings," she said. "That's a legacy I want to leave as well, doing right by these generations and how they're represented." 
Knowing a shift in focus from Baby Boomers and Gen Y to millennials and Gen Z is soon to come, McMillan looks forward to a future she can help shape. At an innovative agency like YMC, she's poised at the forefront of that wave of change. 
McMillan's business journey recently came full circle—from discovering herself as an undergrad and pursuing her passion to inspiring the next generation of students as this year's Kogod Academic Welcome speaker during Welcome Week, a weeklong series of events that introduce new students to the campus, their professors, and each other.
"While many of you all may feel like you don't have the experience to make an impact on campus, know that you couldn't be more wrong," she said to the incoming class of 2022. "You don't have to do something extraordinary to make a name for yourself during your first year.  Your everyday actions matter in positively influencing the campus community. Become a citizen of Kogod, not just an academic. Identify your interests, pursue your passions, get involved, and take initiative."
With her memorable time at Kogod and formative years of experience in the industry, McMillan wasn't just speaking from experience—she was speaking from the heart. 
Learn more about Kogod's Business Administration program.