Business
Kogod Professor Valentina Bruno Wins CFR Fellowship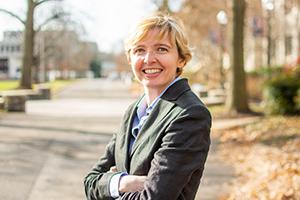 In late November, finance professor Valentina Bruno was awarded a $180,000 Fellowship from the Council on Foreign Relations (CFR). She won the International Affairs Fellowship (IAF) in International Economics, which offers business economists and university-based economics scholars hands-on experience in the US government to work on international economic policy. Potential placements include the International Monetary fund, the US Department of Treasury and relevant parts of the White House.
Bruno decided to apply for the Fellowship because of the philosophy that drives her research. She believes that in order to understand the global economy, one must also understand how economic institutions influence and affect it. The IAF in International Economics offers this opportunity first-hand.
"My work builds on insights from the workings of real world institutions that shape international economics—and the IAF places you in the center of one of these institutions. For these reasons, I thought I might be the right fit," Bruno says.
During the Fellowship, which is between six and nine months, she hopes to discover new insights on how institutions operate within the global financial and legal environment. She'll continue examining on global liquidity, her chosen area of focus, while also contributing to the regulatory and supervisory debate.
"Thanks to the fellowship, I will have the opportunity to see economic research applied to policy action. I'm looking forward to continuing my learning journey in a real-world institution," Bruno says.
Learn more about Valentina Bruno and her research.