Business
President Burwell Meets AUCI Incubator Students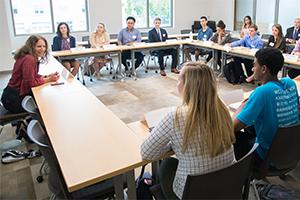 American University's entrepreneurship incubator was full of anticipation last Monday morning as students chatted and fine-tuned their presentations. It was a pitch day—a chance for student business owners to introduce their companies. This was nothing new for most of the young entrepreneurs; they've spent months honing their ventures' value propositions. Pitching to American University's president, however, was a different story.
Sylvia Burwell, AU's newly ordained president and former US Secretary of Health and Human Services, was the events' primary audience and moderator. As an entrepreneur herself who's spent her career building exemplary institutions, Burwell helped encourage, validate and challenge the students. Her presence also afforded them the chance to advocate for their passions to AU's senior leadership—an opportunity not often available.
"We are delighted that Sylvia recognizes our students' entrepreneurial mindsets are a core strength of our campus, and one to leverage as we build our future," says Siri Terjesen, director of the American University Center for Innovation (AUCI).
The event began with a short introduction by Terjesen, followed by brief remarks from Burwell on the impact of entrepreneurs. You are change-makers, she affirmed, who are helping shape the future of business and of American University.
Rather than follow a formal pitch/presentation format, Burwell then stayed seated and engaged with each student entrepreneur around the table. Company founders offered brief, 2-3 minute descriptions of their work and their business' missions. Fifteen ventures attended in total, spanning a range of industries, including mental health, media and education.
"We are inspired by our students who are focusing on a broad range of opportunities," Terjesen says. "They embody our commitment to experiential learning."
Throughout students' pitches, Burwell remained open and curious, asking students questions about their missions and business goals. The event felt most like a conversation—a chance for venture-owners to share their visions, and for AU's president to learn, reflect and talk with students.
The group also discussed current campus issues, examining concerns such as sustainability, management of student funds, mental health resources, and campus life. Burwell also spoke on her previous role at the US Department of Health and Human Services, and how she's applying her expertise to services on campus.
As the morning drew to a close, Burwell reminded students of their potential impact, encouraging them to continue working to make a difference. AUCI incubator students are change-makers, echoed Burwell, both as business owners and as citizens of the American University community.

Learn more about American University's entrepreneurship incubator and the American University Center for Innovation.