Business
CAIA Association Announces Kogod As One of Three New Academic Partnerships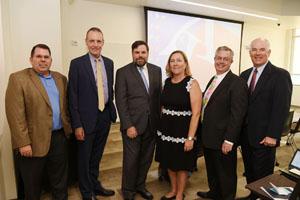 This October, 2018, The Chartered Alternative Investment Analyst (CAIA) Association, the global leader in alternative investment education, celebrated the launch of three new academic partnerships.
Students at American University's Kogod School of Business, University of North Carolina's Kenan-Flagler Business School, and Ohio State University's Max M. Fisher College of Business will now have access to the CAIA Association's curriculum and events. They will also be eligible to apply for scholarships to earn the prestigious CAIA Charter.
"We are thrilled to be partnering with each of these fine schools," said William J. Kelly, CEO of the CAIA Association. "I've had the chance to visit each of them in recent weeks to meet with the respective administrations, faculty and students, and I can tell we are all already well on our way to helping a fantastic new generation of alternative investment leaders build their knowledge base and prepare for an exciting future."
CAIA Academic Partnership Program
CAIA's Academic Partnership Program includes some of the most prestigious universities in the world that incorporate alternative investments into their courses, as represented by the topics covered in the CAIA Level I and Level II curriculum. Kogod joins dozens of internationally top-ranked business schools in partnering with the CAIA Association, including highly-rated programs in the Americas, Europe and Asia.
CAIA Charter Program
The CAIA Charter program is a rigorous, self-directed education for finance professionals seeking deep knowledge and expertise in alternative investing including hedge funds, private equity, structured products, commodities, and real assets. The CAIA designation, granted upon successfully passing Level I and Level II exams and meeting membership requirements, is valued by top employers and recognized globally as the highest standard of achievement in alternative investment education.
About the CAIA Association
The Association supports 30 global Chapters in financial centers in Europe, Asia-Pacific and North America, as well as a Virtual Chapter that brings together Members from far-flung locations in more than 60 countries. CAIA sponsors more than 250 educational and networking events each year and has over 60 academic and association partnerships in the Americas, EMEA, and the Asia Pacific region.
"Partnering with the CAIA Association is a huge honor and achievement for our program and our school. This will bring more exposure to our finance program, better job opportunities for our graduates, and will help our students better prepare for the CAIA program exams," says Randy Nordby, program director of Kogod's master of science in finance program.