Business
Campus Connections Amber McGill, founding president of the Graduate Black Student Union, is creating a social support network for graduate students across AU.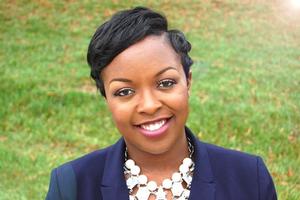 Amber McGill knew that her hard work as founding president of the Graduate Black Student Union (GBSU) had paid off when she saw a group of members talking in the hallway of the School of International Service. "It made me so happy because without the union they would have just walked past each other," says McGill.
McGill, a graduate student in the Kogod School of Business and the School of International Studies (SIS), was surprised when she arrived at American University and discovered that graduate students from different schools weren't connecting. "No one in SIS knew students in Kogod," she says. "It can be isolating for students who are new to the area and don't know anybody."
"There also wasn't a cross-school minority group," she adds. "We reached out to our networks to find out who would be interested in joining the GBSU and every single person said, 'Yes, I want this.'"
Most students attend higher education while they are in their twenties. It's not only a high-stress time of transition but also when many mental illnesses first appear. Having a support system like the GBSU is crucial, especially for students of color.
"In black culture, community is everything," says McGill. "Having many people that you know you can call, just mentally, is crucial for us. I always think that I can get through today because I know there is someone else going through it with me."
Social support is a big aspect of the GBSU, and it's sorely needed—graduate students across the US are in the midst of a mental health crisis, experiencing anxiety and depression at six times the rate of the general population.
Sleep deprivation mixed with thoughts of "Am I doing enough?" while working part- or full-time jobs and fitting in classwork makes it easy for students to feel isolated. Many students put their blinders on and rotate between work, class, and homework.
The GBSU strives to break that cycle by creating a supportive network of students and events where they can meet, vent, and relax. Members can also connect virtually through a group chat, so they never have to feel alone.
"I often see messages like, 'Hey guys, today's a bad day. Some words of encouragement would be great,'" says McGill. "We're creating a pool of people that you can reach out to when you need to."
In her memoir Becoming, Michelle Obama writes about her involvement with a similar organization, Princeton's Third World Center, which she describes as a sanctuary for minority students. She said the center became a home base for her for everything from volunteer work to classwork, parties, and meals.
Having a sense of belonging in groups like the GBSU is linked to better social well-being, levels of persistence, and even class performance. Minority students, in particular, are better able to withstand university-related challenges when they feel a sense of belongingness among their peers. "AU is a diverse campus, but when you're in any environment as a person of color, you can still feel isolated," McGill says.
Even small interactions with familiar faces can make a difference after a long day. "When I get to the bus stop and I see another member, it's relaxing to have someone to chat with after a stressful day. I'm around people in class and at work, but it's different when it's someone that you're connected to through an organization," explains McGill. "The more we can connect on campus and build deeper relationships, the more we will connect off-campus too."
The Graduate Black Student Union is not just about professional development—it's about personal development. McGill wants everyone to know that the GBSU is open to all members, regardless of race or ethnicity. "If you like us, we love you, and we would love to have you," says McGill.
Learn more and become involved by emailing: AUGBSU@gmail.com