Alumni
Grace Killelea, Kogod/MS '00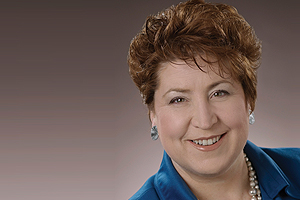 Grace Killelea has always challenged herself to "defy gravity."
Though she had 20 years of business experience under her belt, Killelea was several credits shy of a bachelor's degree—something she says held her down in corporate America.
"I used to hate to check that box on job applications that said 'high school,'" recalls Killelea, who began her career in human resources in 1979 at Price Club.
So, when Killelea, then vice president of Cable TV Montgomery, was recruited to join Kogod's new master's of human resources program in the late '90s, she jumped at the opportunity.
"I had three years of college, so AU gave me work-life credit and enrolled me in the master's program," recalls Killelea, who returned to the classroom in her early 40s. "They looked at my résumé and said, 'We believe this adds up to a bachelor's degree.' I'm incredibly grateful they took a chance on me."
And while it wasn't always easy balancing exams, group projects, and the demands of a full-time job, Killelea completed the executive program in 22 months, making the Dean's List each semester. "I'm especially proud of that," she says.
In February, Killelea was named vice president of talent and leadership initiatives at cable giant Comcast. In her new position, Killelea, who joined the company in 2003, identifies and develops future top executives among Comcast's 100,000 employees.
"There is no average day," says the Philadelphia resident. "Tactically, it's about providing opportunities for people to advance in the company."
In addition to cultivating the next generation of leaders within Comcast, Killelea is also passionate about helping women and minorities break into the business. She oversees Comcast's Emma L. Bowen Foundation internship program, which provides minority students with a five-year internship in media and communications and helps fund their college education.
Under Killelea's careful guidance, Comcast has more than quadrupled the number of interns to 100, making it the largest employer of Emma Bowen students nationwide.
"Someone just needed to water the program and let it grow," she says. "It's just amazing to see someone who's bright and capable given a platform and an opportunity.
"AU opened a door for me. Without the degree, I would've had an OK career, but, instead, it's been a rocket ship," continues Killelea. "I'm thrilled to be in a position now to help others launch their careers."