Business
Failing for Success BSBA alumna Erica Ruzic shares words of wisdom from her time at Kogod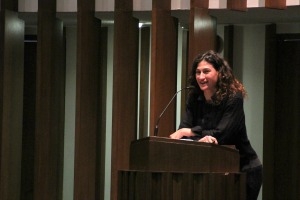 Erica Ruzic, BSBA '12, likes to tell students that failure is a good thing. "It's how you learn to succeed," she says.
Persevering through disappointment was the most important lesson she learned at Kogod, she says. Making mistakes in class and at internships gave her the resilience she needed in the workforce.
Ruzic spoke on this at August's undergraduate convocation. She hoped to encourage incoming Freshman to embrace their full range of experience -winnings and let-downs included.
Now a manager at Soylent, a health food company in Los Angeles, Ruzic is busy with a successful professional life. She hopes her story will motivate students to harness failure for good. "Attitude is everything," she says. "Learning from a fall can be transformative."
Read more about Erica's speech, work experience and time at Kogod below.
Can you talk about your address at Kogod's undergraduate convocation?
The general theme was learning from failure-that it's okay to fail, and, when you do, you should learn from it. This is something I think of constantly in the workplace. Organizations make mistakes all the time and you have to make sure you're always harvesting that knowledge and feeding it back into your corporate system.
I also think about it a lot in regards to my time at Kogod. I wasn't necessarily a top performer; I'd get D's and F's sometimes, and there were some extemporaneous situations I had to figure out. I learned that the way you approach things is really a necessary skill, and the earlier you can adopt it, the faster you'll be able to progress towards whatever goals you've set for yourself.
Why did you choose to speak on this?
I spent some time reflecting back on my time at Kogod, and I realized I had a bit of a spotty record. I wanted to share how I was able to transition into a responsible, successful professional and examine what enabled me to make that transition. I wanted to find its root in a specific moment, and my time at Kogod -the many moments I had-was the answer I found.
Tell me about what you're doing now.
I currently work at Soylent in Los Angeles, a startup with a mission to make nutrition more accessible. My formal title is Commercialization Program Manager, which means I work with all things commercial-related-whether it's retail expansion, or processing project improvement. As Commercialization Program Manager, I advocate for designing the right products and launching them, then manage and market them once they're on sale.
My day-to-day is meeting with a lot of people to set our strategy, and then cascading this into bigger initiatives. I help break down our larger vision into manageable chunks that tie into a larger goal.
What did you do before you worked at Soylent?
I spent four years at PepsiCo, first in New York City then abroad in Shanghai. I started in finance, then transitioned to global marketing when I moved overseas. For most of my time, my job was about making the company more healthy-helping PepsiCo adapt to a world where people aren't drinking sodas as much. I helped launch products that are healthy and brought value to consumers' lives in a different way. It was very transformation-focused.
Other than similarities in the work, how have these different experiences informed what you are doing today?
In order to make an impact you really need to understand how all of a company's departments function. I wanted to start in finance because you can see the entire business, and it's where a lot of strategic decisions are made. For me that was the best place to start-and I got to build a lot of quality work skills.
I was always talking to people in other departments, and was curious about what they were doing. I really gained an understanding of how a successful organization functioned by having those positions early on at PepsiCo.
What was working abroad like?
I was surprised at first, but it's really not radically different than working at home! I think this has to do with the state of transition international business is in. Today, with globalization and the internet, "international business" has just become "business." There's different cultural interpretations and ways of interacting, yes, but ultimately the goals are the same.
What was your time like at Kogod?
Kogod gave me the opportunity to have a lot of varied experiences. When I started, I immediately got involved with the Undergraduate Business Association. I was Director of Finance my Freshman year, and Chief Operating Officer as a Sophomore. I also worked at the front desk, which gave me the opportunity to meet and work with a lot of different people in the school.
I took tons of different types of classes and got lots of exposure to new things. When I look back, I remember lots of interesting people that went on to do great things, who still share Kogod's common values.
In what ways do these experiences inform what you're doing today?
Kogod provided the foundation I needed to enter the work force. The school helped reinforce having a good attitude in your job: things like servant leadership and humility, putting others first, increasing your team's performance. I think I've been able to succeed largely because of these soft skills I gained at Kogod. I can't stress the importance of striving for excellence and bolstering your team's performance-values that were instilled in me at AU.
What are your future hopes and ambitions?
I honestly have no idea of where the future will take me! Whatever I do, though, I want it to impact people for the better. I want to be a good person, and I want to build something that touches people's lives. I think that as you focus on making each day better than the one before, whatever you do, you'll be totally fine.