Business
Kogod Welcomes Jason Garner as New Admissions Director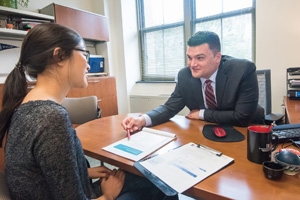 Jason Garner, Kogod's new Director of Admissions, was attracted to the school for the same reasons as its graduate students.
From intimate class sizes to strong faculty members, Garner saw Kogod's assets as opportunities to expand the school's brand and increase enrollment.
"The program really has the ability to sell itself," Garner says. His role is to make sure that prospective students understand what Kogod has to offer.
Getting the Lay of the Land at Kogod
Meetings have dominated Garner's first few months. His primary responsibility is to encourage students to enroll, but he feels it's vital to develop a more in-depth perspective of students' lives
"I want to really understand what the entire student experience is like here," Garner says. He's met with various teams, including career services and student engagement, and he's had discussions with numerous individuals, including professors and academic advisors.
Equipped with both a broad and nuanced understanding of life at AU, Garner believes he'll be better positioned to recruit students and articulate what makes the school stand out.
"Our role in admissions doesn't really end the moment students get here," Garner says. "I think admissions needs to be very well connected."
Wendy Boland, Associate Dean of Programs and Learning, feels similarly about the importance of collaboration between the different teams. "All programs are working together," she says.
Boland believes Garner's strong background in admissions and knowledge of the D.C. market (he previously served as the Director of MBA Admissions at The George Washington University School of Business) as well as his eagerness to work with other teams, will serve him well in his new role.
Short-term and Long-term Goals
In August, Garner visited India to recruit prospective students. He visited four different cities and met with at least 100 students in each one, participating in a "career fair, but for graduate programs." AU was represented along with some of the other leading business programs in the United States. Not only were the students interested in the MBA, Garner says, but they were excited about the opportunities provided by the seven other Kogod graduate programs.
One of Garner's priorities is expanding Kogod's recruitment in international markets. Garner also has trips planned to Mexico and Colombia, and he wants to visit China and a number of other countries. He sees one of Kogod's strengths as the diversity of its student body. He wants to ensure he's able to maintain and expand that by promoting Kogod to students around the world.
But for Garner, diversity does not only refer to a student's ethnicity or country of origin; it also includes students' professional backgrounds and career aspirations. And he wants to ensure that Kogod is equipped to support a variety of students who have different ambitions. "We need to think about how what we offer can help them be successful."
Garner and his team are also facilitating a variety of domestic recruitment events, as well, both at AU and around the country. This fall, he has 40 trips planned, taking him from Boston to San Francisco and Chicago to Texas among many other locations. For those prospective students he's unable to meet in person, Garner will also host online events.
In the short term, Garner is focused on refreshing some of Kogod's website language and recruitment materials to best reflect the program's assets. He wants prospective students to see how the school aligns with their needs.
"Students really want to know what the return on investment is," Garner says, citing one of the most frequent questions he gets from students considering Kogod. His goal is to articulate how Kogod prepares them not only to secure their dream jobs, but to succeed in them.
Prospects also want to know what life is like for AU graduate students living in Washington, D.C., and what opportunities that affords. Garner appreciates how modern technology has enabled his admissions and recruitment efforts to communicate this to prospects.
"We can convey more than just the transactional information about how to apply," Garner says. "We tell more of the story of what it's like to be here."
Connecting with Students on a Personal Level
Even though Garner doesn't teach in the classroom, he stills feels a personal connection with every individual he recruits.
"I call them 'my students,'" he says.
The most exciting thing for him in admissions--the reason he was initially drawn to the career--is building and managing relationships. He finds it inspiring to bring students into the programs, see them succeed, then witness them flourish in their careers.
"It is a really transformative experience," Garner says-not only for his students, but for him as well.
Learn more about Kogod's Graduate Admissions.