Business
Megan Brew Joins KCCD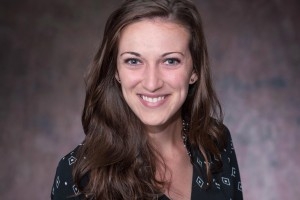 This Fall, Kogod's Center for Career Development hired two new undergraduate career advisors: Megan Brew and Annie Yu (yes, their names rhyme!) We sat down with each of them to welcome them to Kogod, and get a better sense of their background and experience.
Megan comes to us from the University of Virginia, where she worked as a graduate intern with UVA's Career Center. At UVA, she developed mentorship connections for students interested in working internationally, while earning her master's in Higher Education Administration. She's also worked as Director of Operations for Armed Services Arts Partnership, and holds a bachelor's in business administration from the College of William and Mary.
Learn more about Megan below; click here to read about Annie.
Kogod School of Business: You have a master's degree in Higher Education Administration. What inspired you to pursue this path?
Megan Brew: I absolutely loved my experience as an undergrad at William & Mary. The summer after my freshman year I spent some time reflecting on potential internships for future summers. When considering future areas of professional interest, I kept coming back to one topic: my love for William & Mary. Knowing I could only stay on-campus as a student for four years, I quickly discovered that full-time professionals run the ship. I started learning more by asking questions of my mentors at the college and realized that a career in higher education could be my true calling.
KSB: You both also have a bachelor's degree in Business Administration. In what ways does this connect to what you're doing now?
MB: Earning my degree in Business Administration adds a level of connection with Kogod students. I took similar classes to those offered at Kogod when I was an undergrad, so I can relate when I have conversations with students about their coursework and future career aspirations.
KSB: Is there a professional experience or accomplishment that you're particularly proud of?
MB: I collaborated with two of my team members at UVA to structure an international mentorship program. Undergrads connected with alumni working internationally to learn the ins and outs of applying for jobs in other countries and building their networks abroad. Understanding the international focus within Kogod, I'd love to design something similar for students here.
KSB: Why did you choose career advising as your career path?
MB: I absolutely love working with people and strive to meet and engage as much as I can. (Can you tell I'm an extrovert?)
I derive great joy from hearing people's stories and, oftentimes, their career influences their path immensely. I saw career advising as an incredible opportunity to listen to students and coach them to reaching their goals.
KSB: What are you most looking forward to in your new role as a KCCD career advisor for undergraduate students?
MB: I'm looking forward to building new programs for students. I am particularly passionate about experiential learning and am hopeful to work with our employer relations team to plan professional treks around DC where students can learn more from professionals in desired fields (and right in their backyard!)
KSB: What attracted to you to Kogod specifically?
MB: When I applied for the role of Career Management Advisor, I took time to review the Kogod website and talk to a few students and professionals already in the building. From my various points of research, I particularly loved the interdisciplinary nature of the curriculum at Kogod. I appreciate how the Business School leverages the location near the capital to give students the best of both worlds: a valuable business education in an ecosystem of government and politics.
KSB: What do you hope to accomplish working at Kogod?
MB: I hope to build long-lasting relationships with students. I'm looking forward to connecting with students throughout their four years at AU and watching them progress into young adulthood. I can't wait to see all that the talented group of students at Kogod can accomplish personally and professionally in the coming years.
KSB: Anything else you'd like to add?
MB: I'm just excited to be here!
Interested in Kogod's Center for Career Development? Learn more here.