Business
Kogod Launches Inaugural Business Professionalism Course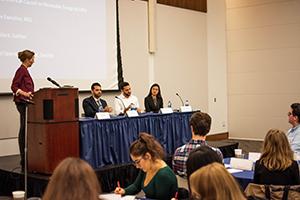 Last semester, Kogod hosted its first ever Business Professionalism course, a weekend workshop for undergraduates focused on fostering professional conduct in the workplace. The two-day event – the second of which is scheduled for this spring – brought together Kogod sophmores for a series of business-focused panels, keynote discussions and presentations.
"This course gives our students the opportunity to learn the value of professionalism in the workplace from a diverse group of alumni and industry leaders," said Raina Ghandi, Kogod's Assistant Dean of Career Services and a session leader. "Students prepare for internships and other experiential learning opportunities in their sophomore year, and this course helps them develop the skills and awareness necessary to [succeed]."
The Saturday session opened with a module on workplace cultures and ecosystems, where a panel of Kogod alumni discussed what they've learned since graduating and what they think students show know now. Discussion topics included how to deal with difficult co-workers, questions about the hiring process, and how to manage up. One of the panelists, Max Almono, now a senior associate at the American Council on Renewable Energy, said:
"It's one thing to have a staff or a professor talk about professionalism and career development, but it's another for a recent alumni to. It gives more transparency to the actual process. It helps shed some light on challenges they might face in 1-2 years."
The module was followed by a talk by Pete Metzger, Vice Chairman at DHR International, a teamwork panel and a closing speech by Gina Adams, Senior Vice President for Government Affairs at FedEx. Additional sessions, throughout Saturday and Sunday, included Teamwork and Leadership; Critical Thinking and Communication; and Growing your Career.
In "Growing your Career," led by Raina Ghandi, students learned the tips and tricks of the career building process. During the session, they played the role of the recruiter, giving them a tangible lesson on the importance of marketing oneself through resumes and coverletters.
"My hope is that students better understand the value of demonstrating maturity and respect in the workplace. I also hope they use their non-verbal, presentation, and written communication skills to reflect a positive attitude and build a strong image in their professional environments," Ghandi said.
The event concluded on Sunday afternoon with keynote remarks from Mary Abbajay, president of Careerstone Group, LLC, and author Managing Up.
Kogod's next Business Professionalism course will be held Friday, April 5, 2019 from 5:30-9:30 p.m. and the following day, April 6, from 8:30-5 p.m.