Business
Grace and Bravery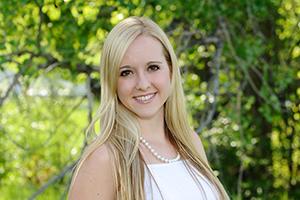 Grace Imhoff's story is one of triumph, not tragedy. The Kogod senior has channeled her personal challenges into her work, using business to empower herself, and those around her.
Imhoff's venture BeBrave, founded in 2017 through American University's entrepreneurship incubator, does exactly that. The company sells sexual assault prevention wearable technology, giving women protection and power in the event of an attack. The BeBrave device, which fits inside a bracelet or a locket necklace, alerts friends and law enforcement through voice activation and a pre-set emergency word. 
Last spring, BeBrave won first place, as well as the social impact track audience award, at the George Mason University Dean's Business Competition. The annual event recognizes student-founded ventures that are making a difference in the business world — whether through social good, innovative ideas or unique products. Imhoff was awarded $6,000.
Imhoff's road to success has not been an easy one. She was inspired to found BeBrave because of her own sexual assault experience — an incident that happened only a few years ago.
During her second semester at Kogod, Imhoff was sexually assaulted in her dormitory. Her assailant lived in the same building.
A few weeks before the end of her freshman year, Imhoff filed a formal complaint before going home to Denver. The University conducted a summer-long investigation, followed by a formal hearing and a week of deliberations, at the end of which Imhoff's attacker was dismissed from campus.
Imhoff also received follow-ups from the school to ensure she was safe after the hearing. "Otherwise, I don't know if I could have stayed," she says.
After her experience, Imhoff was overwhelmed by anxiety and stress. She was confused as to why she didn't fight back, she says.
Research into fear responses helped Imhoff learn about freeze response, sometimes known as tonic immobility. A common freeze response is verbally protesting without moving physically, which is what she experienced.
Imhoff wanted to do something that could help people — something that might help other women not end up in her situation. The seeds of an idea began to germinate in an information technology class she was taking. "I started thinking about products that could help people, and thinking about the problem I had in my life."
The idea: a device, not unlike Life Alert, that could notify people for help through voice recognition. She envisioned it based on Bluetooth, using the same GPS and voice recognition technologies available in smartphones. It addressed the issue of freeze response by activating just through voice. She called it "BeBrave."
She is currently working on her prototype in Kogod's Entrepreneurship Incubator, to which she was accepted a year ago, collaborating with app developer Alaeldin Tirba, BSBA '18. She also collaborates with underclassmen interns through the incubator program each semester.
"Hopefully we can launch the product before I graduate."
Her ultimate goal, she said, is to be able to sell her product, tell her story, and gain the strength to help other people tell their stories.
She's found this strength, in part, from the support she's received at AU. Imhoff describes incubator directors Tommy White and Bill Bellows as "amazing." She's also found encouragement from staff in the Kogod Honor Society, as well as her academic advisors.
"I have an amazing network of people and an amazing support system, and there are so many people who don't have that," Imhoff said. "There's a reason why I didn't leave AU after I was assaulted, and it's because there are really great humans who live and work here."
Imhoff has also taken an active role in encouraging openness about sexual assault by hosting weekly support meetings. Some participants are survivors, others want to know how to support friends who have been assaulted, and some are young men who want to combat bystander apathy.
"I hope the word gets out about our conversations," she said. "I find the most inspiring part of my life talking to people. With the #metoo movement, I think talking about it will help people. Hearing stories of their strength makes me stronger."
And that strength drives her to pursue BeBrave - developing the technology, developing the business, and facing down the obstacles. Imhoff admits that winning the Dean's Business Competition at George Mason was certainly a big step forward, elevating the company's name and providing important financial resources. "The $6,000 really gives us some capital to work with."
In the future, Imhoff plans to attend law school, where she can channel her passion for advocacy into action. Most of all, she hopes to continue developing BeBrave, advancing a technology she hopes will help others.  
"I want to help people who have been victims of assault and domestic violence. I want to be the person who helps people who don't have anyone to help them."