Business
How One Online MBA Student's Education Will Help a Family Business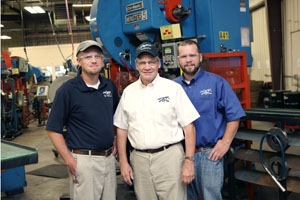 When Daniel Hurst, MBA@American '18, completed his undergraduate degree in economics from Wake Forest University in 2007, he was unsure what he wanted to do professionally. But as he prepares to complete his master of business administration at American University this spring, he already knows where he wants to pursue a long-term career: at Phoenix Specialty, the family business.
Phoenix, a custom parts supplier for original equipment manufacturers, has been in Hurst's family since 1927, when his great-grandfather Albert Lowman purchased it. Hurst decided to get his MBA not only as an investment in his own professional education, but out of a sense of responsibility to the company. By learning how to make Phoenix more "analytical and data-driven," Hurst says the company will remain more competitive in the industry. He plans on using his business education to maintain and further the family legacy.
"My grandfather, my great-grandfather, and my dad, they sacrificed a lot to try and keep this company going and to support me and my family," Hurst says. "There is almost a sense of obligation and duty toward making sure the company remains profitable. I was handed a very big head start in life, and I need to keep that going [for] other generations [to] continue."
Phoenix has been in Hurst's family for decades, and his efforts will help ensure the next generation inherits a thriving business. The company has been a force for change for more than 50 years in Bamburg, SC, where it's located.
When Hurst decided to pursue his MBA, he knew his education had the potential to positively impact his family, the business and his community. There was one problem, though: Hurst wanted to get his MBA, but he also needed to continue working full-time at Phoenix. So, he decided to enroll in American University's MBA program—online.
Three Reasons to Go Online
1. Saving Time
When Hurst first started considering MBA programs, he initially looked locally at traditional brick-and-mortar schools. While he wasn't concerned with balancing a part-time MBA program with a full-time job, he was anxious about one thing in particular: the commute. He didn't think he could afford the idle time of driving between home and work and school.
By pursuing his MBA online with AU, Hurst found the extra time he needed. "You can balance a full-time job, a family life and work on bettering your career."
Hurst says he has been very pleased with the program's digital aspect. He enjoys the online classroom platform, where he can see his classmates and professors via webcam as well as the media uploaded to accompany the lectures.
The flexibility of the program enabled Hurst to translate his passion for business into a successful education. But the MBA's digital experience is more than just a simple matter of convenience.
2. Applying Classroom Lessons on the Job
While it was important for Hurst to continue to go into Phoenix's office every day while he pursued his MBA, he still recognizes that "telecommunications is the future of business." By working with his classmates on group projects via the online portal, he feels more prepared to effectively collaborate with colleagues digitally.
"Having that basic familiarity with the software has definitely helped me out professionally," Hurst says.
The flexibility to work during the day and pursue his MBA online at night allowed Hurst to connect what he learned in class with his work at Phoenix.
In one class, Hurst recalls, he was learning about how decision-making must account for customer needs. "And then the next day I'm in a meeting, and we were talking about two different projects," Hurst says. His team had to choose one of the projects to pursue. By analyzing which project had a greater impact for the customer, Hurst helped the team reach a more customer-oriented decision.
"Being able to apply what you learn to your work has been extremely beneficial," Hurst says. His unique perspective, fashioned from his MBA experience, was helping the company improve its decision making.
3. Engaging with and Contributing to a Diverse Student Body
When studying with his peers in the program, Hurst also enjoyed hearing from their different perspectives—and providing his own.
By learning about his peer's diverse backgrounds and work experiences, Hurst was better able to understand both his own industry and the American economy more generally. One of his classmates worked in offshore drilling, an industry Phoenix often works with to supply needed parts. Whenever he would converse with a classmate about their job, he would ask himself: "How do I see that reflected in my industry?"
Even though the program was online, Hurst said many of his AU classmates lived in Washington, DC, and worked for the government. Not only did he enjoy learning about finances in the public sector, but he appreciated the chance to share his perspective working in a private-sector industry.
The Power of Business to Effect Change
Hurst's experience working for a family-owned business in small-town South Carolina contrasted with most of his peers pursuing their MBAs. But he used his background as motivation throughout his education.
Not only does he want to pursue his education so he can help the family-business as best he can, but he also knows what that business means beyond his family. "We're a very small community here. While we only employ about a 100-110 people, those 100 jobs, they mean a lot to this area," Hurst says.
Hurst grew up seeing the impact Phoenix Specialty had on his own life and in his community.
"Small business, the small manufacturers, that's one of the more important parts of the economy," Hurst says. "I think what makes this country great is the entrepreneurial spirit, the idea that you can go out there, you can start a business, and leave something for the next generation that you didn't have."
Learn more about Kogod's MBA@American program.