Business
It Runs in the Family Father-son duo Michael and Daniel Battle are completing their Business@American MBA the same time, with the goal of walking across the stage together for graduation in 2020.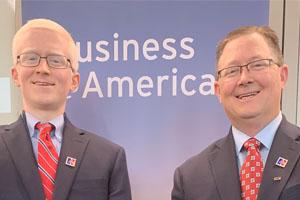 Twenty years ago, Michael Battle's life was taking off—his career was quickly evolving and his family was growing. He also happened to be enrolled in an MBA program in upstate New York. However, an unexpected promotion placed Michael in a regional leadership position that required his full attention. And with three kids under the age of six, he put his educational pursuits on the backburner.
Fast-forward to 2018, and Michael is back on track to complete his MBA…but this time the situation is a bit different. His son, Daniel, is also getting his MBA, and they're both enrolled in Kogod's MBA@American online program.
"I heard Danny was going to go to get his MBA, and in our family throwing challenges down is nothing new," Michael said. "So, I started doing the research."
Both Michael and Daniel decided to pursue an online MBA at Kogod while holding full-time jobs. For Michael, getting his MBA is both a professional and personal milestone; for Daniel, who's just starting his career, getting an MBA is more of an educational challenge. For both of the Battles, Kogod felt like the right choice for the same reasons.
The father-son duo was drawn to the program due to Kogod's reputation, the breadth of coverage the program provides, and the diversity of the student body.
"It's really a testament to the AU program, that it offers [something] for me, as a 25 year old, just starting out in the business world, and for also my dad, who has been in the consulting profession for almost 30 years," Daniel said. "It offers that flexibility, it offers that challenge, it offers that wealth of experience and diversification that you look for in an MBA."  
MBA@American offers six different concentration paths, and also allows students the opportunity to create their own concentration. It can be completed in 12, 15, 18, or 24 months, and includes in-person immersions where students solve business challenges with companies in real-time. It's this flexibility that allows students like Michael and Daniel to pursue their degree and balance a full-time job.
The Battles are also both driven by an intrinsic motivation to obtain an MBA and enhance their professional success.
Michael is the executive vice president and chief operating officer at EA Engineering, Science, and Technology, Inc., PBC.  He also sits on the company's board of directors and has been with EA for almost 28 years. Meanwhile Daniel, a 2016 graduate from Hood College in Frederick, Maryland, just started his career as a resource analyst at NASA's Goddard Space Flight Center.  
Michael and Daniel don't overlap very much when it comes to completing coursework, but find ways to support each other throughout the challenging process of completing their respective MBAs."It's fortunate and unfortunate at the same time—we get to independently pursue this degree on our own, but we're still there supporting each other," Daniel said.
"I'm kind of hoping to cross the finish line at the same time," Michael said. "Obviously, juggling work, travel, and school is a challenge, but we've always been about challenge, and the walking the stage together would be special."  
Looking ahead, Michael and Daniel have different goals for what comes next. Michael wants to figure out how to transition various roles within his organization, but sees his career continuing to evolve where it is. He does, however, see an opportunity in speaking to students at schools like Kogod about his experience both in school and in his profession. Daniel, on the other hand, sees his this MBA as a strategic, competitive tool to use as he progresses in his career.
And while the two have different end goals and are going about their MBA differently, one thing is for sure—the Battle's certainly have a head for business.
Interested in learning more about the Business@American online MBA program? Read about the program and how to apply.