Business
Kogod Ramps Up for Small Business Saturday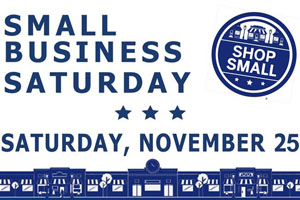 We'd wager that most of you know about the shopping mega-day Black Friday. There's also Cyber Monday…and, if you're in the fundraising world, Giving Tuesday. Ever heard of small business Saturday, though? If you're a local business-lover like us, it's definitely a day worth celebrating.
Small Business Saturday, held this year on Saturday, November 25, "celebrates and supports small businesses and all they do for their communities," according to the Small Business Association. It was founded by American Express in 2010 to encourage consumers to shop small during the holiday season—and to give retailers the chance to gain valuable exposure in their local marketplaces.
In 2016, American Express estimated that small business owners generated $15.4 billion dollars. Approximately 112 million people participated, shopping at 6,700 different stores in all 50 states. Those are no small numbers—or slight economic impact.
"Small businesses are, and will continue to be, the heartbeat of America. As the overall retail industry continues a major transformation, those entrepreneurs who offer specialized and unique products will be clear winners," says Tommy White, Executive-in-Residence at the Kogod School of Business. "Small Business Saturday is a great way to recognize the spirit and diversity of these amazing entrepreneurs who provide a critical anchor to all our local communities."
The Washington, DC, local business community has some exciting plans for Small Business Saturday, 2017. Stores are featuring special sales, give-aways and fun events throughout the day to celebrate. To give you a taste of what's in store (no pun intended), we've done a bit of research…
…Here's five neighborhoods in the DMV we'd recommend visiting on the 25th – some with killer deals, others with special events– but all in support of local business.
Georgetown
There are more than 300 small businesses in Georgetown—from doughnut shops to olive oil stores. Read about their special deals and promotions to help you plan your day. Georgetown BID is also sponsoring a neighborhood-wide promotion: shoppers receive a Small Business Saturday bag with purchase of any participating store. Ten of the bags will include a golden ticket, redeemable for a $100 AMEX gift card.
Alexandria
Alexandria boasts more than 50 independently owned boutiques, all with special activities planned. There's live music, shopping and activities at the Torpedo Factory Art Center, surprise giveaways, and a Santa Stroll planned for 11 a.m.! Read more about what Alexandria's got planned.
Shaw
On November 25, Shaw will cut ribbons at a dozen new Shaw businesses, expanding it's already thriving local business scene. They'll be holiday craft-making and entertainment, and free hot chocolate and cider. To cap off the day, watch the tree lighting at City Market at O. A full schedule and list of participating businesses will be posted as the event approaches.
Petworth
Don't miss the Small Business Saturday Shopping Crawl! Upshur Street Books; Annie's Ace Hardware; Fido and Kitty's World; Fias Fab Finds; and Lulabelle's Sweet Shop are all participants. Every participant will receive a free tote bag, and has the opportunity to collect gifts and prizes at each location. Yoga lovers: be sure to attend Lighthouse Yoga Center's free 60-minute Hatha class at 2 p.m. to relieve holiday stress!
Monroe Street
If you're an arts lover, stop by Monroe Street to support its nearly 30 local artists on the Arts Walk. Small Businesses at the Market include The Bike Rack, Brookland Pint, Busboys & Poets, Fox Loves Taco, and Wardman Wines. More details here.
Learn more about Small Business Saturday and its economic value.
Kogod School of Business wishes you a happy Thanksgiving holiday!