Business
Kogod Alumna Advances Non-profit and Women Leadership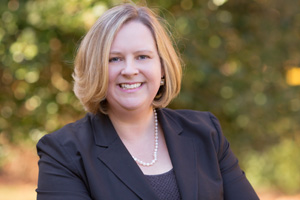 Since 2015, Laura Lott, BSA '98, has served as President and CEO of the American Alliance of Museums (AAM), a non-profit dedicated to advocating for and nurturing excellence in museums across the country.
Lott is the first woman to lead the organization in its over one-hundred year history. She heads the day-to-day operations of a 40-person staff, a $10 million annual budget, and cultivates AAM's 35,000 person membership base.
A self-described non-profit turnaround expert, Lott is all about leading transformation in organizations. "AAM was struggling financially when I joined, which was part of the attraction," she said. "I had the ability to help them get back on a strong financial footing."
In shaping the Alliance's mission, Lott led the process of developing their new strategic plan, which emphasizes topics including diversity, equity, accessibility and inclusion. Lott wants to infuse these values into museums' programs and structure, gradually re-shaping the industry's culture.
"Museums are inclusive places people can come together. They can be a platform for activism, too," she says. "I think the AAM moving in this direction can help museums affect change in their respective communities."
Inclusion is a priority for the Alliance, for both moral and financial reasons. As cultural spaces that represent the public, museums must embrace different ethnicities and cultures, says Lott. They have a special responsibility to share people's stories. "We can't say we're vital unless we're including everyone," she says.
Some of this change starts with herself. At first, Lott didn't fully recognize the impact of being the first woman leader of the organization. After speaking with members, she realized that representation matters, and being yourself can make you a role model to others.
This is in part due to balancing motherhood and leadership, she says. Traditionally these two roles were very separate, which can be confusing and burdensome for working women. Lott strives to integrate both, bringing her daughter to work when needed, and encouraging her staff to do the same.
"I hope that in some small way I'm 'moving the needle forward' and helping other women feel they can bring their whole selves to work," says Lott.
Looking ahead, Lott hopes to transition AAM into more of an advocacy organization, helping members gain wider recognition in their communities. Museums are vibrant organizations that support research, conservation and education, says Lott, which many people don't realize. "[I do think] museums are often taken for granted. They're not just places to go on a rainy day - they're a solace for learning, and places that enrich our lives."
And, as the Alliance's first female CEO, they're also places women leaders can flourish. Lott is strengthening the museum world while setting the stage for future women executives. She wants to empower her female peers to own themselves in the workplace, wholly embracing their identities as executives, mothers and wives.  
"At the end of the day I'm just trying to make the world a more empathetic, just and better place," says Lott.
Laura is married to her husband, Steve Lott, who met while studying at the Kogod School of Business. Read more about how they met here.
Learn more about Kogod's bachelor of science in accounting program.