Business
In the Business of Renewable Energy Kogod alumnus Max Almono is using his BSBA to advance renewable energy with the goal of creating a more sustainable future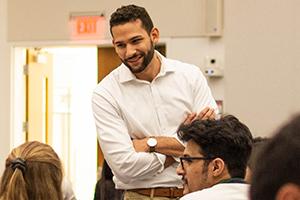 Kogod alumnus Max Almono doesn't have what you would consider a traditional business career. A 2016 graduate, Almono could have worked for an investment bank or pursued a career at one of the big four accounting firms. Instead, he decided to find a career that combined his passion for sustainability with his interest in business.
Now, Almono is a Senior Associate at American Council for Renewable Energy (ACORE), where he channels his focus into researching the economics and policy frameworks of renewable energy.
"I'm using my degree in finance to promote the growth of renewable energy," Almono said. "My passion was always towards climate change. I think that the nexus between climate change and business is unavoidable. That's why I really wanted [business] skills but I didn't want to apply it in a traditional sense."
At ACORE, Almono not only gets to work closely with subject matter that interests him, he has the opportunity to interact with senior level executives and put his ideas into action. Recently, Almono worked on a white paper titled "Decarbonizing Corporate Value Chains." The paper analyzes how companies are working with suppliers to procure renewable energy and lower carbon emissions throughout their supply chains.
Almono also works on Environmental Social Governance (ESG) investing, which is when clients of financial institutions choose to only invest in companies that are environmentally or socially responsible. For example, ESG investing takes into account the different risks associated with climate change in financial markets.
"Rising sea levels, larger hurricanes, carbon taxes, all of these things are going to affect the financial performance of different energy assets," said Almono. "We believe that renewable energy not only mitigates the impacts of climate change, but may also help lower portfolio risk. Therefore, ESG methodology should more accurately price these attributes into capital markets. "
And his job has even taken him to the hill, where he advocates and educates legislators about renewable energy and the benefits it's bringing to their districts.
"To me, being able to translate the basics of the renewable energy market into something that's articulate for legislators or just the broader community is really important," Almono said.
In his role at ACORE, Almono not only has to share his opinion and voice his ideas, he has to support them with research. During his time at Kogod, Almono not only learned how to present an idea—he was taught how to back up an argument with facts and figures. While he came to American University as a School of International Service student, he chose to switch schools so he could cultivate the business skills he realized he would need for the line of work he wanted to do. However, one thing Almono didn't take advantage of while at school was the number of hands-on, immersive learning experiences Kogod offers.
"To me, I think [those experiences are] incredibly valuable," he said. "I think I wasn't aware of the opportunity that was being presented to me when it was offered."
Looking back, he realizes how special those opportunities were, and how they don't often appear in the "real world."
"Just showing up and taking advantage of the opportunities at Kogod are so incredibly important because you have four years, in my opinion, to take advantage of everything AU has to offer," he said. "Once you graduate, you're on your own. [There's a difference] between being at AU and being fostered by the program, to actually having to go out there and do this all by yourself."
With his undergraduate experience in the books, we'd say Almono is learning how to navigate the real world pretty well.