Business
The Princeton Review Ranks Kogod Greatest Opportunities for Minorities, Women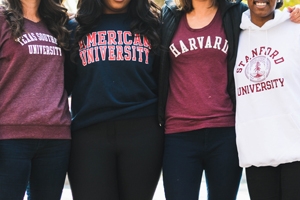 Washington, DC, November 17, 2017 – American University's Kogod School of Business is an outstanding business school, according to The Princeton Review. The education services company profiles the school in its 2018 annual business school rankings at www.princetonreview.com/business-school-rankings/best-business-schools
The 2018 Best Business Schools list ranks on-campus MBA programs, on-campus MBA programs by category, and best online MBA programs. The on-campus MBA cohort includes 267 business schools which were selected using a combination of factors, including institutional and student survey data. According to Robert Franek, Princeton Review Senior VP-Publisher, "We recommend Kogod as one of the best to earn an MBA."
The Princeton Review's on-campus MBA survey interviewed 23,000 students attending the 267 featured schools about their business school's academics, student body, and campus life, as well as about themselves and their career plans. The student surveys that were used were completed online at http://survey.review.com and conducted in the 2014-15, 2015-16, and 2016-17 academic years.
Kogod received two outstanding On-campus MBA by Category rankings. The school was ranked #3 for greatest opportunities for minorities, and #4 for greatest opportunities for women. These are based on MBA student ratings of the resources available for minority students and women, in addition to institutional data. Diversity in the student body, how supportive the campus culture is of minority students, and whether case study materials reflect women in business were also factors in selection.
"I am especially delighted by these rankings because they affirm our ability to practice our core value of diversity and inclusion, and because they confirm our dedication to furthering it in the future," says John T. Delaney, Dean of the Kogod School of Business.
The Princeton Review also features Kogod in its business school profiles, which has sections on academics, student life, admissions information and graduates' employment data. American University and Kogod are described as places where "students learn from leaders in their fields, are engaged in active citizenship, and strive to make a difference in the world." Current students describe the school as having a distinct "emphasis on cooperation rather than competition." Kogod has "lots of good clubs" and is "very active;" it is also "small and easy to get around."
There are 18 MBA by Category rankings on the 2018 Best Business Schools list. Other categories include Best Green MBA; Most Family Friendly; Best Professors; Best Career Prospects; and Best Administered, among others. Kogod is one of 71 schools included in Best Business Schools 2018 (27% of the 267 profiled) that appear on one or more of the project's 18 ranking lists.
Kogod is honored to be recognized by the Princeton Review for its investment in minority populations and women. The school looks forward to continuing serving these groups, as well as all students in their MBA program.
About the Princeton Review
The Princeton Review is a leading tutoring, test prep and college admission services company. Every year, it helps millions of college- and graduate school-bound students achieve their education and career goals through online and in person courses delivered by a network of more than 4,000 teachers and tutors, online resources, and its more than 150 print and digital books published by Penguin Random House. The Princeton Review is headquartered in New York, NY. The company is not affiliated with Princeton University. For more information, visit www.PrincetonReview.com. Follow the company on Twitter @ThePrincetonRev
Learn more about Kogod's MBA program.