Business
Seeking Challenge, Gaining Perspective Bianca Tardio, MSF '19, sees a different financial future with Islamic finance.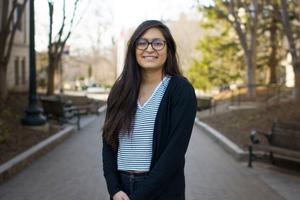 Bianca Tardio, MSF '19, is looking to change how the world views finance.
During her time at Kogod, Tardio was eager to gain hands-on experience and face new challenges. Becoming an analyst for the Student Managed Investment Fund (SMIF)—a student-run and managed investment fund with $700,000 in assets—offered her the opportunity to cut her teeth in the world of investing and get practical skills managing a portfolio. Tardio not only benefited from real-world experience in security analysis but also realized how interconnected finance was with world events.
"Before, I didn't really read the news. I didn't care for it," she says. "But being in these classes, you really have to know what's going on. For instance, how is Brexit going to impact investment in the stocks? Everything just connects."
Tardio also gained a new perspective on how finance can work. She was inspired to come to American University because of the graduate certificate offered in Islamic finance. She saw the opportunity to combine her love of Arab culture with her career. Learning more about Islamic finance opened Tardio's eyes to different possibilities—she sees now that there are alternatives to conventional finance.
"It definitely made me recognize that there's more than one way of doing things. Even the concept of interest—of course, finance has to involve interest, but with Islamic finance, there is no interest. So, how can you have a profit? How can you have any sort of investment opportunities without interest? That's where Islamic finance comes in," she explains.
Islamic law forbids lenders and investors from collecting or paying interest. Instead, Islamic banks use a profit-sharing model—borrowers who receive a loan share their profit with the lending bank rather than paying interest on the loan. If the borrower defaults or doesn't earn a profit, the bank doesn't earn any money.
After researching green sukuk—climate bonds that are growing in demand in Islamic countries—Tardio believes there is a better way to fund environmental projects using Islamic finance. When it comes to societal benefit, she believes Islamic finance will lead the path to meaningful change.
"A lot of conventional finance funding provides more of a debt problem, which people obviously have trouble getting out of. Islamic finance would be an alternative to benefit not just companies or corporations but actually the people," says Tardio.
Looking ahead, she knows she is going to continue to challenge herself and continue in the field of finance.
"For me, everything is a learning experience," Tardio says. "I'll keep on going and moving up."
Learn more about Kogod's MS in finance program.