Business
A Passion for Change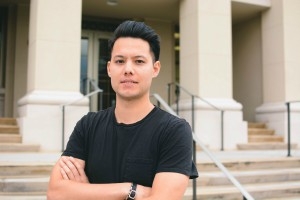 Philip Soriano, BSF '08, is a change-maker. He wants to help people reach their full potential, creating a space for them to make mindful, purpose-driven decisions. Lack of mindfulness can really inhibit individuals' success, he says, especially in business.
This passion led him to his current work: leadership coaching. Soriano works as a consultant for Stratton Consulting Group, a management firm based in Lancaster, Pennsylvania, as well as an independent contractor in the New York City area.
"I've seen businesses get amazing results, but the employees just show up with blank eyes. Providing a space where people can open up and realize their path for the first time is really energizing," Soriano says.
Soriano works one-on-one with company leaders, providing coaching sessions, group workshops, 360-degree reviews, team behavior assessments and more. He believes every circumstance calls for a different approach, and wants to offer the most impactful solutions possible.
"It's rare we look at the 'why' of what we're doing, because people are so rushed," Soriano says. "Slowing down and addressing a company's underlying needs and desires can truly create meaningful change."
Prior to becoming a leadership coach, Soriano worked as co-founder of the men's clothing brand Hugh & Crye, which he helped found in 2010. Hugh & Crye helps men find the ideal fit for dress and t-shirts, blazers and popovers, offering sizing options outside the standard small-medium-large system.
Like leadership coaching, Soriano pursued a career at Hugh & Crye to help others reach their full potential. He wanted to help men look and feel good, a "small thing that can make a big difference," he says.
Soriano helped build Hugh & Crye from the ground up with his business partner, Pranav Vora, who now runs the company. The duo rented an office space, hired a team, managed the merchandise and marketed their products - a process that Soriano admits was not easy.
"Hugh & Crye taught me that challenging situations are the ones you can learn the most from. Starting that company showed me what I am capable of," he says.
Soriano, who studied finance at Kogod, credits the school with giving him the tools he needed to succeed. Studying numbers helped him understand how "things worked behind the scenes." It also gave him an in-depth understanding of how start-ups and small businesses run - the reason he pursued business education in the first place.
"I just wanted to figure out how businesses run, and why they work the way they do," he says.
Moving forward, Soriano sees himself continuing his leadership coaching, working to help people expand their perspective and possibilities. He hopes to eventually broaden what he's doing so that he can work on a "much deeper scale," expanding his consulting beyond just himself.
"At Hugh & Crye, we could sell our products while we were sleeping, but right now I can only create change while I'm awake. I'd love to figure out a way to reproduce this with coaching," he says.
Most of all, Soriano wants to have an impact. He aims to help others discover what impassions and motivates them, and how to translate this into their professional lives.
"At the end of the day the impact I want to have is creating more humanity. And injecting this - and a little more soul - into corporate life. That's the goal," he says.
Learn more about Philip Soriano, and Kogod's bachelor of science in finance program.