Business
Finding Love and Making Change Kogod alumni Steve and Laura Lott credit their time at AU for shaping their futures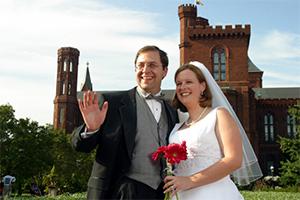 Forging a partnership
Steve Lott, BSBA '98, and Laura Lott, BSA '98, didn't know that meeting each other while working on a marketing project would spark a lifelong relationship. Their mission in life and careers was realized through their time at Kogod, to make the world a better place, they said.
In an introductory-level marketing course, students were put into groups and were tasked to pick an organization and evaluate its marketing strategy. Steve and Laura paired up and picked American University.
"We shared a passion for the school," Steve said.
"It wasn't just another assignment. Our passion at the time was 'how can we improve the school?' We were proud of AU and proud of Kogod. [But we also] felt we knew better than the administration."
After meeting jointly with offices, including Enrollment and Campus Life, the pair started to spend a lot of time together and looked like a couple. They became friends but didn't begin their relationship until after college.
"We realized we weren't going to have forced time together through classes. We missed each other and wanted to spend more time together. We ended up dating and getting married a few years later," Laura said.
Finding their passion
The couple each came to AU with succinctly career-focused mindsets. They loved how the DC area was bustling with real-world opportunities and internships, a stark contrast from their small town roots. Kogod was the perfect fit too - their respective academic programs gave them the practical skills needed to transcend multiple fields.
"I think because of being in DC, and really taking to heart the notion that Washington was a campus, I spent as much time off campus as I did on," Laura said.
Steve was an avid writer and editor who wrote for The Eagle, AU's student newspaper. Laura, on the other hand, chose to affect change through a student position in the faculty senate and student government.
Laura, currently President and CEO of the American Alliance of Museums (and the organization's first female leader), completed her minor in justice, in addition to her major in accounting. "I can now put my business background [to use] running an organization and being a turnaround expert in the non-profit field. I'm focused on making the world a better place," Laura said.
Steve, who now works in international communications, credits his time living and working alongside faculty and students from around the world for sparking his interest in new cultures.
"That background and exposure early on really helped me gain a global perspective," Steve said.
Making an Impact - and a Life Together
Laura says an internship during her time at AU exposed her to the world of non-profits and philanthropy - a career path she didn't know existed. "That has driven all my early career decisions and influenced what I do today," she said.
At the American Alliance of Museums (AAM), Laura oversees the day-to-day operations of a 40-person staff serving the needs of 35,000 museum members, both large and small. She's led the development of the organization's new strategic plan, which focuses on diversity, equity, accessibility and inclusion.
"[We want] museums to become more inclusive places where people [from all backgrounds] can come together," Laura said.
The couple is continuing to leverage their passion for change, both professionally and personally. "We've been married 16 years and we have a little girl who's turning six in the fall. We are both trying to balance this crazy world with careers and family - but still having lots of fun together," said Laura.
Just like during their time together at Kogod. "The people we were working with in our respective positions knew before we did that we were a thing," Laura said. "After we graduated, they said things like, 'we were pulling for you!'"
Learn more about Kogod's bachelor of science in accounting program and bachelor of science in business administration program.